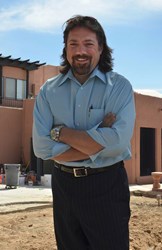 (PRWEB) October 09, 2013
Professor Higgs and Professor Englert were awarded the Nobel Prize in Physics this week for the confirmation of the Higgs particle (aka the God Particle). But what exactly is that? What does it do? In a way it gives things their mass, but a more appropriate question might be why do things have mass at all? Physicists predicted that the previously undetected particle responsible for mass was the elusive Higgs particle.
The largest and most expensive scientific endeavor in human history was designed and constructed over twenty years and twenty billion dollars specifically to try and find a Higgs particle. The Large Hadron Collider at CERN finally announced in July of last year that the Higgs was discovered.
Tucson physicist, Dr. W. Thomas Hintz, was one of the physicists working on the CMS experiment, one of the two which discovered the Higgs. Dr. Hintz will be giving a very exciting and exclusive Nobel Prize Talk right here in Tucson at Maker House on Friday the 11th of October at 6:30p.m.
Maker House is a local makerspace, dedicated to the sharing of ideas, collaboration and creative thinking. Drinks and light fare are available. The talk is free and open to the public, but seats are limited and are first come, first serve.