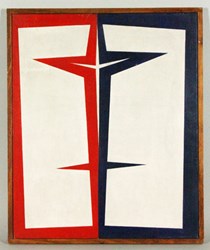 Beverly, MA (PRWEB) October 10, 2013
With over six hundred lots, Kaminski's September 20th Century Modern Auction saw the successful sale of a wide variety of fine art, sculpture and furnishings.
The top lot of the day was an abstract painting by the American artist Ralph Coburn, which fetched $9,000 against an original estimate of $1,500 to $2,500. The painting captures well Cobern's characteristic use of simple colors and dynamic geometric compositions. Coburn himself is an important figure in the development of Modern art in Boston. Trained at MIT and at the Museum School at the MFA, Cobern has been featured in exhibits at both the Cape Ann Art Museum and the Museum of Fine Arts Boston.
Paintings from contemporary New England artist Scott Prior and American Pop artist James Rizzi also performed well. Sold as lot 8100, Prior's hyper-realistic scene of a New England landscape behind a house, entitled "Backyard Barbeque," sold well above its high estimate for $4,600. James Rizzi's colorful work, "One Man's Floor is Another Man's Ceiling" also attracted many absentee and phone bidders, and represents the kind of work for which Rizzi is most famous. The multi-layered print of anthropomorphic city buildings was hammered down at $2,300 and sold to an online bidder.
A Freideberg cat clock also attracted many bidders' interest. In Pedro Friedeberg's work, one sees the sensibilities of a surrealist artist translated into furniture and decorative items. The cat clock features an feline torso supported by two hominid feet. The torso, in turn, backs a clock face with each hour designated by a hand displaying the appropriate number of fingers. In this way, the cat clock captures the same absurd and playful combination of body parts seen in Friedeberg's most famous piece, "Hand Foot Chair." Originally estimated at $3,000 to $5,000, the clock sold for $4,250.
A four panel Fornasetti screen was also among the top lots of the day. The screen, estimated at $6,000 to $8,000, depicts a trompe l'oeil scene of an eclectic library bookshelf on one side and images of stringed instruments on the reverse. With many bidders vying to own the exceptional piece, the screen reached its high estimate of $8,000.
Of the furniture offered in the sale, bidders seemed most drawn to a coffee table from the designer Max Kuehe. The silver leaf and polychrome table features a delicate depiction of white petaled flowers inscribed into the surface. Estimated at a conservative $1,500 to $2,500, the table sold to an online bidder for $5,500.
With the closure of this successful 20th Century Decorative Arts and Modern Auction, Kaminski looks forward to the next Modern Auction, to be held in January 26th.
About Kaminski Auctions
Kaminski Auctions located on the North Shore of Boston, has been serving the national and international antiques markets for over 25 years as a full service auction house and appraisal service for fine art, antiques and estates.
With locations in Beverly Hills, San Diego, Palm Desert, New York City at the Manhattan Art and Antiques center and two locations in Beverly, Massachusetts, Kaminski Auctions hosts over 25 auctions a year.
In today's highly competitive market of fine art and antiques, Kaminski Auctions provides its customers with bicoastal services and marketing. Kaminski Auctions offers specialty departments in Asian Art and Antiques, Silver, Glass and Lamps, Couture and Vintage Clothing, European and American Fine Art and Furniture, Photography and Modern Design. We have highly trained and knowledgeable appraisers on staff that will help you determine the true value of your antiques, or entire collections. Free Appraisal days are offered every Tuesday at many of our locations. For more details, or to consign, please visit kaminskiauctions.com. We welcome emailed photos of your items!
Contact consignments(at)kaminskiauctions(dot)com.