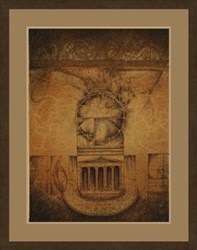 (PRWEB) October 10, 2013
Fascinated by nature, Holz concentrates her work on the patterns and patinas that emerge as the physical world evolves. From the arrangement of the stars and planets to the texture of a fungus on a wood pile, Holz's work is about looking closely and then re-imagining what she sees to transform it into more than a literal representation of the environment. She studied drawing and painting at California State at Northridge and Northern Illinois University and currently pursues art full-time at her home in rural Illinois. Holz has received local and national recognition for her work, which has been shown in many galleries and juried shows, and is included in several corporate collections.
The featured piece, "Divine Arch," was created using solar plates, an environmentally sensitive replacement for acids and other toxic materials. Created by layering multiple images, the finished work includes bubble traces of subatomic particles, a proportional analysis of the Parthenon and a musical score. Typical of Holz's work, the image attempts to combine the purely physical pattern of movement with the cerebral notion of what the movement means to striving human hearts. Part of a very small variable edition of etchings, "Divine Arch" was hand colored with watercolor, pastel and colored pencil.
American Frame designers present "Divine Arch" in a natural cherry frame from their Basics collection. The richly stained simple profile compliments Holz's subject matter—classic proportions—and the neutral mats lend depth without distraction. In keeping with the image itself, the treatment's warm tones foster a meditative mindset.
About American Frame
American Frame provides professional-quality DIY custom picture framing supplies and fine art printing services at wholesale prices direct to the consumer. Its easy web interface allows customers to design a custom frame treatment for assembly in the comfort of their homes or studios. They can also upload a digital image to be printed on canvas or fine art paper and receive framed work ready to hang. All orders are handcrafted in Maumee OH and shipped within 2 business days. Family owned and operated since 1973. Love your art. Frame it right.™