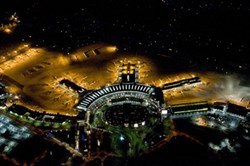 With all gates in one terminal building, Düsseldorf Airport is the "airport of short distances" – guaranteeing minimum connection times of 35 minutes.
Düsseldorf, Germany (PRWEB) October 10, 2013
Düsseldorf Airport (DUS) is a superior airport and hub for any international itinerary all year long, and the coming season is no exception: DUS's 2013/14 winter schedule is packed with excellent options for better itineraries to Germany, Europe, and beyond. From October 27, travelers can choose from 130 worldwide destinations by 50 airlines, including many connections to North America and Asia.
DUS CEO Thomas Schnalke says, "Airlines continue to invest in Düsseldorf Airport. This winter, our airline partners offer 95 intercontinental flights, more than last winter. Examples are six daily flights to the United States, and four daily flights to the hubs in Dubai and Abu Dhabi."
Highlights for North America travelers include the following non-stop flights: Air Berlin's daily service to New York (JFK) and Miami, as well as four flights per week to Fort Myers; Lufthansa continues to fly daily to New York (Newark) and to Chicago five times per week.
Both airlines use DUS as a hub, which means more connections worldwide. Air Berlin operates ten weekly flights from DUS to the Caribbean, including the Dominican Republic and Mexico, and has added more flights to existing routes within Germany and Europe, including Hamburg (31 flights per week), Milan (17 weekly flights), and Rome (daily), and added a new daily flight to Madrid. Lufthansa continues to fly to most major European cities daily, often twice a day (e.g., Glasgow six times per week).
Some of the new routes include:
A daily Turkish Airlines flight serves a second Istanbul airport, Sabiha Gökçen Airport – located in the Asian part of the city and perfect for transfer to other destinations in Turkey and Asia.
British Airways continues to serve London City Airport from Düsseldorf Airport three times daily – making these leading business locations even closer together.
Russian Airlines Orenair offers flights for Winter Olympics visitors to Sotschi; Spanish airline Vueling offers nine weekly flights to Barcelona (and connections to more than 40 destinations in Europe and Africa from there).
For more information, visit http://www.fly2dus.com.
In League with New York, London, Paris and More
Adding to Düsseldorf's appeal, several US & Canadian cities (Atlanta, Chicago, Ft. Myers, Los Angeles, Miami, New York, Newark, Toronto) offer non-stop flights. Passengers who continue their journeys can choose from numerous convenient connections to Berlin, Munich, Frankfurt, Hamburg and many other German and European cities. Throughout the year, 70 airlines serve 190 destinations worldwide – among them 125 European destinations. Another major advantage of the airport is its layout. With all gates in one terminal building, Düsseldorf Airport is the "airport of short distances" – guaranteeing minimum connection times of 35 minutes.
The airport is at the center of the Rhine Ruhr area, a bustling network of 53 connected cities and 18 million residents within 40 miles. It is the EU's third largest market in volume and spending and equal to major metropolitan regions like New York, London and Paris. 500,000 companies are located in the area, including 5,000 offices of foreign corporations, the majority from the Netherlands, Japan and the USA. Many major international industry players, including Fujifilm Europe, Nokia Siemens, Novell, Ericsson, Deloitte & Touche, McKinsey, and Toshiba, are headquartered in Düsseldorf, which is a first-rate location for high-tech concerns. International presence and fast accessibility – guaranteed by DUS being one of Germany's major hubs – make the location highly attractive.
Düsseldorf and North Rhine-Westphalia, ranked 17 in GDP among the world's major industrial centers, are also home to some of the most significant exhibitions and trade shows in the world. Of the 50 annual events at Düsseldorf's Exhibition Center, 23 lead their industry worldwide, for example, printing technology ("drupa"), plastics and rubber ("K"), medicine ("MEDICA" and "REHACARE INTERNATIONAL"), leisure time ("boot") or packaging ("interpack"). For more information on Düsseldorf Airport, visit http://www.fly2dus.com.
###
Düsseldorf Tourism & Marketing GmbH is the visitors and convention bureau of the city of Düsseldorf. Its services include tourism and city marketing, conference and meeting marketing, hotel reservation services, fairs and convention services, city event ticket sales and advance ticket reservations. For more information, visit http://www.visitduesseldorf.de.