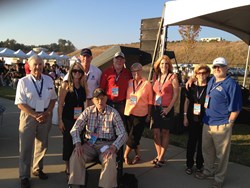 Hiram, GA (PRWEB) October 09, 2013
State Representative Paulette Rakestraw Braddock of Paulding County, Georgia attended the second annual Paulding County Air Show, entitled Salute America 2013. One segment of the show was a ceremony recognizing local veterans for their service to our country.
Rep. Rakestraw Braddock arranged for Major Donald Glenn Karr, a 94-year-old veteran who served as a pilot in the Air Force during World War II, to be honored in the ceremony as a VIP. Major Karr's granddaughter, Ms. Susan Leslie, escorted him and the two spent time together in the VIP tent watching the air show and later attended a dinner specifically honoring the veterans.
Other prominent local citizens who are also veterans were also honored at the air show. Dr. John Covington, a retired physician, trained as a pilot in the Air Force. State Representative Howard Maxwell (R-17) served in the Army in Vietnam, and Post 1 Commissioner Dave Carmichael served in the Marine Corps.
"It was such an honor and a privilege to recognize Major Karr at the air show; he is an amazing gentleman," said Rep. Rakestraw Braddock. "I am always honored to meet our veterans and am so thankful for their sacrifice and service to our country. Major Karr earned a Silver Star for his service and I am very proud that I've had an opportunity to talk with him about his experiences. It humbles me to know the sacrifices these great men and women have made to protect our freedom. I always keep that in mind when voting for legislation that impacts Georgians lives because so many have sacrificed so much to protect that freedom. I am grateful that I was able to talk with many veterans at the show and thank them for their service as well."
The Salute America Air Show is an annual event hosted at the new airport in Paulding County. It is a non-profit event for the community and proceeds go to support several local charities. The Air Show is recognized as a fabulous event for the whole family.
Rep. Rakestraw Braddock, Paulding County's first female legislator, represents the citizens of District 19 in Paulding County. Paulette is the Vice Chair for the Science and Technology committee and serves on the Special Committee for Small Business and Job Creation, Special Rules, Juvenille Justice and Economic Development Committees.