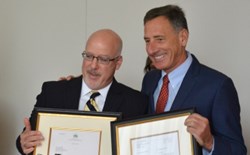 We know how important it is to be in an environment that has an established track record with proven experience.
Montpelier, VT (PRWEB) October 10, 2013
Governor Peter Shumlin announced today that the Department of Financial Regulation (DFR) has licensed Vermont's 1,000th captive insurance company. Cassatt Insurance Group is a group of nine independent non-profit hospitals in southeastern Pennsylvania that share risk in providing medical liability coverage for 1,200 physicians. Vermont approved Cassatt Insurance Group, Inc.'s application for a sponsored captive as Vermont's 1000th captive license. DFR also announced the licensing of two other new captives, bringing the annual total to 16.
The Governor said he was proud of the milestone and to expect even more good things to come. "We are proud to celebrate this significant accomplishment, but we will not be resting on our laurels. My administration is committed to keeping Vermont at the forefront of all domiciles and keeping Vermont's reputation as the 'Gold Standard' of captive domiciles."
Cassatt President and CEO Eric W. Dethlefs said Vermont was an easy choice. "We know how important it is to be in an environment that has an established track record with proven experience," he said, "so when we compared experience, governmental support and its long-standing tradition of quality regulation, we knew Vermont was the place to be."
DFR Commissioner Susan Donegan agreed and noted that this is a milestone in the state's financial services history. "Vermont's captive insurance law has been called the 'gold standard' by trade press for its consistency in keeping pace with the changing needs of the industry over the past 32 years, and it has been used by other domiciles as a model of regulation," she said. "Vermont is proud of its reputation in the captive world and we're happy to welcome Cassatt to the Vermont captive family."
Dan Towle, Director of Financial Services, said that hospital groups setting up captives in Vermont is not a new trend. "Hospitals setting up captives as a way to better manage their professional medical liability have been a strong growth sector for Vermont. It is fitting that our thousandth captive is in the healthcare sector."
David Provost, Deputy Commissioner of Captive Insurance, commented on what has made Vermont successful. "We have built an industry based on finding quality companies, regulating them in an appropriate manner and providing excellent service. This foundation will serve us well as we look forward to licensing the next thousand captives."
Vermont is the largest captive insurance domicile in the U.S. and the third largest in the world in terms of sheer numbers. There are more than thirty states with captive insurance authorizing legislation. Vermont's captive insurance companies wrote more than $26 billion in gross written premium in 2012, the most of any domicile in the world. Vermont is also home to 42 of the companies that make up the Fortune 100 and 18 of the companies that make up the Dow 30.
Captive insurance is a regulated form of self-insurance created by companies or groups of companies as an alternative to traditional insurance and is designed to better manage their own risk. Captive insurance companies are typically used for corporate lines of insurance such as property, general liability, products liability, or professional liability. Growth sectors of the captive insurance industry include professional medical malpractice coverage for doctors and hospitals and the continued trend of small- and mid-sized companies forming captive insurance companies. Vermont has approximately 100 hospital and doctors groups that have formed captives for professional medical liability.
Captive insurance has existed since the 1960s and has been a part of the Vermont insurance industry since 1981, when Vermont passed the Special Insurer Act. Captive insurance companies are formed by companies or groups of companies as a form of alternative insurance to better manage their own risk. Captive insurance companies are licensed in a state or country and are regulated by that jurisdiction.
For more information on Vermont's captive industry, visit http://www.vermontcaptive.com.