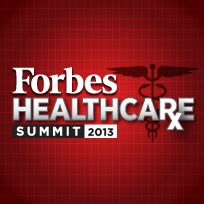 Topical BioMedics, Inc., is humbled to be a very dedicated part of the patient revolution
Rhinebeck, NY (PRWEB) October 09, 2013
On October 9th and 10th in New York, Steve Forbes will host the second annual Forbes Healthcare Summit, to discuss how the newly empowered consumers will drive disruption and change.
The summit, titled Empowering The Patient Revolution, will highlight how key stakeholders can work together to generate actionable solutions and reform to organize and finance new systems and ultimately provide better outcomes for patients. Explains Forbes:
"The revolution in healthcare is being led by patients, who are now more empowered than ever -- demanding more choice and transparency and harnessing technology to garner the best information to weigh their options and be more in control of their care."
Topricin's platform proudly speaks intelligently to the needs of millions of people who suffer with chronic and acute pain issues, requiring better options, along with making a viable, ethical contribution in discussing a sustainable healthcare model that includes all stakeholders. Says Mr. Paradise:
"Working closely with doctors and patients, Topical BioMedics sees and hears how patients are demanding credible, empowering information, transparency and better, and safer pain relief solutions so that individuals can begin to take charge of healthcare choices. Topical BioMedics, Inc is humbled to be a very dedicated part of the patient revolution, and Topricin has taken a leadership role by contributing with all other stakeholders to develop better solutions and new economic models that provide better outcomes for patients - where sustainability and profitability live side by side."
Mr. Paradise admires Forbes for creating a space for leaders in the healthcare industry to come together with open-minds to help empower patients.
"Honest discussion and debate can ultimately generate stronger understandings and alliances, and considering the nature of America's overmedicated society, the patient cannot afford and certainly our country cannot afford another moment of narrow-minded thinking, entrenched positions or both," says Paradise.
The Forbes' Summit agenda is set with provocative and crucial topics. Key session titles include:

The Future Of Medicine: An Interview With Billionaire, Pharmaceutical Inventor, and Entrepreneur Patrick Soon-Shiong, Chairman and CEO, NantHealth
Consumers Driving Philanthropy In Healthcare: The traditional concept of philanthropy involved sending money and goods to those in need, but the outcomes were inconsistent. Now, many prominent foundations succeed because they promote personal accountability and allow patients to take control of their futures.
Closing remarks will be hosted by Steve Forbes, Chairman & Editor-in-Chief, Forbes Media.
About Topical BioMedics, Inc.: Topical BioMedics is a research and development leader in topical natural medicines for pain relief. The company's product line includes original Topricin Pain Relief and Healing Cream, Topricin Foot Therapy Cream, and Topricin for Children. The natural formulas have been awarded a patent for the topical treatment of pain associated with fibromyalgia and neuropathy, and are safe for diabetics.
Topricin products are made in the U.S.A. and are in compliance with federal rules for homeopathic over-the-counter medicines. Topricin products are growing in popularity and are safe for diabetics and the entire family, including pregnant women. Topricin is also a lifestyle product that athletes and other active people appreciate for its ability to help with performance and recovery.
Topricin formulas contain: no parabens, petroleum or harsh chemicals, are odorless, greaseless and non-irritating, and produce no known side effects. Doctors and pharmacists can find more information about Topricin in the Physicians' Desk Reference (PDR). http://www.Topricin.com
About Forbes Conferences: Forbes conferences bring the pages of Forbes magazine and the conversation of Forbes.com to life. They provide an experience of total immersion into our content, entrepreneurial spirit, prestigious community, and philosophy of business success through lifelong relationships. From panels led by our editors to one-on-one interviews with business and political visionaries, to unique networking opportunities, attendees are enveloped in the world of Forbes from the moment they register culminating in intellectual discourse of the highest caliber. This dialogue, taking place in elegant and interesting environments, is the essence of Forbes conferences.