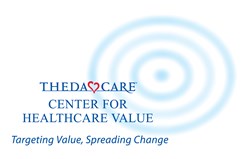 Appleton, WI (PRWEB) October 09, 2013
A new article on today's time.com, the online home of TIME magazine, highlights the power of lean healthcare as a way to fundamentally improve the industry, and positions the ThedaCare Center for Healthcare Value as an important conduit to spread that learning.
As an example, the article, titled The Real Face of Healthcare Reform, focuses on the patient outcome and cost improvements achieved at ThedaCare, a five-hospital health system in Northeast Wisconsin, where Center founder and CEO John Toussaint, MD, helped hardwire lean principles and processes. It also gives a nod to Wisconsin-based Ariens Co., the snow blower manufacturing company that led Dr. Toussaint to his "a-ha!" lean moment.
"The impact of lean is remarkable. At Ariens, employees had the power to make radical changes to the product if needed. Now, we see doctors and nurses following this same approach, acting differently, and patients are reaping the benefits," said Dr. Toussaint.
TIME puts these accomplishments in context against the backdrop of healthcare reform and the need for sustainable change. The article comes on the heels of another prominent piece in the Journal of the American Medical Association (JAMA) by Dr. Toussaint and Center board members Arnold Milstein, MD, of the Stanford University School of Medicine, and Stephen Shortell, PhD, of the University of California-Berkeley School of Public Health. The JAMA article focused on lessons learned from participants in the Pioneer ACO model.
"Together, these articles highlight the shift that needs to happen, and is happening, across the healthcare industry—a shift toward patient value, supported by the lean principles of reducing waste and respect for people," said Dr. Toussaint. "It's great to see more attention focused here, and more healthcare leaders joining the conversation."
Dean Gruner, MD, president and CEO of ThedaCare, agreed. "Healthcare Transformation is what is needed and is very challenging work. Lean allows us to take a perspective of optimism and hope that we really can improve quality while reducing costs," he said.
ThedaCare Center for Healthcare Value
The ThedaCare Center for Healthcare Value is transforming the healthcare industry to deliver higher value through experiments, collaboration and education that integrate three interdependent components: delivery, transparency and payment. In these areas, the Center spreads learning and accelerates improvement. Learn more at createvalue.org.