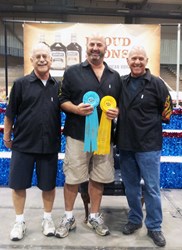 Philly is known for cheesesteaks and now were known for BBQ!
Philadelphia, PA (PRWEB) October 09, 2013
Wilbur's Revenge took 9th overall at The 2013 American Royal Invitational. The American Royal Invitational contest presented by KC Masterpiece is a true national championship with 174 teams competing this year. Teams from the United States, Canada and abroad, who have won a Grand Championship at a qualifying contest between August 1, 2012-July 31, 2013 are invited to compete at the American Royal alongside the best of the best in the competitive barbecue circuit. David Marks, the local Famous Dave's BBQ Franchisee and Pitmaster of Wilbur's Revenge said, "It was awesome to bring such prestige back to Philly, a city known more for cheesesteaks then BBQ!"
Wilbur's Revenge was founded in 2010 by David Marks and the team has won numerous awards at competitions throughout the Mid-Atlantic. This season, the team won Grand Championships at the Middletown (DE) BBQ Cook-off in May, and "Que for the Troops" in Levittown, PA in June thus gaining the team entry to the American Royal in Kansas City, MO. Known as the "World Series of Barbecue," a win at the American Royal is the barbecue largest competition in the country. The competition was held October 3-6. Out of 174 teams in the Invitational, Wilbur's Revenge placed 9th Overall, 3rd in Brisket and 11th in Pork.
Wilbur's Revenge was also invited to compete at The Jack Daniel's World BBQ Championships later this month. Each state will be represented by one team and Wilbur's Revenge will represent the state of Delaware. Many countries from around the world will also have a team representing them at the world championships. David and the team will compete against the world's top competitive BBQ Teams on October 25-26 in Lynchburg, TN.