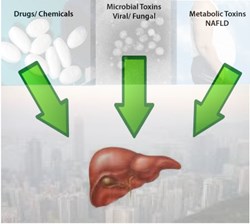 The demands on one's liver cells have reached extraordinary levels
Wyckoff, NJ (PRWEB) October 10, 2013
Ethical Alternative Products will participate in Liver Awareness Month this October. The dietary supplement products company is now offering customers 50% discount off of a
year supply of ThioGel-L, a triple antioxidant liver formula. ThioGel-L utilizes the active ingredients of alpha lipoic acid, silymarin and selenium to protect the liver and prevent disease. The three main ingredients act to support the liver promoting growth, cell regeneration, and protection of antioxidants as well as increase glutathione levels.
"The liver is an underappreciated organ that quietly goes about its assigned task of removing toxins from the body to maintain and restore homeostasis. The demands on one's liver cells have reached extraordinary levels as a result of technological trends in the food and drug industries. Liver Awareness Month brings attention to the disease and prevention methods to avoid it," stated Gerald Bruno, Ph.D. founder of Ethical Alternative Products.
The liver is largely involved in removing and breaking down the majority of drugs and chemicals that enter the bloodstream on a regular basis. The action of breaking down these daily toxins creates byproducts that can cause inflammation and damage to liver cells.
The American Liver Foundation looks to raise awareness of liver disease as well as educate the public to increase the understanding of the organ's function and the potential for disease. Liver toxicity is one of the greatest problems associated with exposure to environmental toxins and the consumption of over-the-counter and prescription drugs.
"As a triple antioxidant liver formula, ThioGel-L is a great dietary supplement that can help those at risk or currently diagnosed with liver disease," continued Bruno.
The 50% discount on a year supply of ThioGel-L ends on October 31, 2013.
For more information on Ethical Alternative Products please visit: ethicalalternativeproducts.com or for more information on The American Liver Foundation please visit: liverfoundation.org.
About Ethical Alternative Products
Ethical Alternative Products is a dietary supplement supplier that is focused on the research and manufacturing of a select group of scientifically sound, broad-use supplement products. The company mission is to develop and produce high-value supplements, employing innovative formulations and highest quality raw materials. Products produced by Ethical Alternative Products include ThioGel, ThioGel-L triple antioxidant liver formulation, OmniFlex multi-nutrient joint health product and Tendonex topical pain reliever.