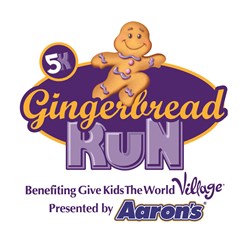 It touches your heart to see our precious wish children and their families rooting for runners as they cross the finish line.
Kissimmee, FL (PRWEB) October 10, 2013
The Fifth Annual Gingerbread Run 5k Presented by Aaron's, set for Saturday, November 2 at Give Kids The World (GKTW) Village in Kissimmee, Florida, is attracting record numbers of running enthusiasts and philanthropic contributors. The race invites the public inside the whimsical 70-acre "storybook" resort to meet the families they are helping support. The professionally timed race will lead participants on a 3.1 mile path through a child's fantasyland, past an enchanted castle and a snoring tree, through magical bubbles and even by the world's largest CANDY LAND game where sweet treats are doled out by Queen Frostine and Princess Lolly.
"The Gingerbread Run 5k Presented by Aaron's brings people from all walks of life to experience firsthand the love and joy that permeate our Village," Pam Landwirth, GKTW president said. "It touches your heart to see our precious wish children and their families rooting for runners as they cross the finish line."
The family-friendly event will feature live music, a Zumba dance warm-up, a Kidz Zone with face painting, balloon animals and even a slime show by Nickelodeon. Characters including DreamWorks' Gingy, Nickelodeon's Dora The Explorer and SpongeBob SquarePants as well as Give Kids The World's Mayor Clayton, Ms. Merry and Murphy the Gingerbread Man will all be on hand to delight and encourage participants.
Last year's event raised nearly double the previous year's total thanks to participant fundraising and corporate sponsorships. More than 20 national and local corporations contributed in-kind or monetary donations including presenting sponsor Aaron's, as well as Nickelodeon Suites, Boston Market Corporation, Orange Lake Resorts, Signature Flights and many more. "Virtual runners" from around the world are encouraged to show their support of the organization by sponsoring a runner or making a donation online.
GKTW announced that Friday, October 11 is "Show Us Your Gingerbread Run Spirit Day!" Supporters are encouraged to wear a Gingerbread Run T-shirt from a past event, or make their own, then post a picture or video showing Gingerbread Run spirit on the GKTW Facebook wall before Friday, October 11 at midnight. The picture or video with the most "likes" by Monday, October 14 at noon will win a Give Kids The World jacket and sweatshirt!*
For information on participating in or becoming a sponsor in this year's Gingerbread Run 5k, visit http://www.gingerbreadrun.org.
About Give Kids The World
Recognized as the highest rated charity in America by personal finance site MainStreet, and also reported by MSN Money, Give Kids The World Village (GKTW) is a 70-acre, non-profit resort in Central Florida that creates magical memories for children with life-threatening illnesses and their families. GKTW provides accommodations at its whimsical resort, donated attractions tickets, meals and more for a weeklong, cost-free fantasy vacation. With the help of many generous individuals, corporations and partnering wish-granting organizations, Give Kids The World has welcomed more than 122,000 families from all 50 states and over 74 countries. For more information about GKTW and its mission, visit http://www.givekidstheworld.org.