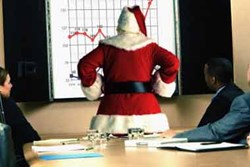 "The changes that are necessary for our society need to begin in our hearts and homes." - Tamara Amos, Author of Gift of a Servant
Warrenton, VA (PRWEB) October 09, 2013
Well into the second week of a government shutdown that has furloughed approximately 800,000 federal employees, and with concern growing over the country's current inability to make the payment on its national debt, the realization has begun to sink in that the country's spending habits have created an economic crisis.
The current situation of the US economy is symptomatic of a similar problem that plagues its citizens: overspending. This habit is heightened at Christmas time when Americans spend approximately $500 billion, according to recent surveys.
Gift of a Servant, a new Christmas book by Tamara Amos, has won 13 book awards for its unique perspective and inspiring insight into modern consumerism during the holidays. Amos weaves a magical tale where Santa himself explains the beautiful meaning behind the tradition of gift-giving, which is an expression of love, encouraging readers to shift their focus at Christmas from materialism to acts of loving kindness.
"The changes that are necessary for our society need to begin in our hearts and homes," advises Amos. "Over-indulge in spiritual gifts, not material ones. Spend time doing activities and charitable work with loved ones, not in shopping malls. Be joyful, not stressed. Be generous, but responsible. The magic is in the meaning and disappears when we lose ourselves in the hype."