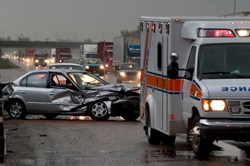 Dallas, Texas (PRWEB) October 11, 2013
In an effort to further-educate the public on the legal considerations and frequency of car accidents in Dallas & Fort Worth, Rasansky Law Firm has launched a brand-new version of our car accident news & information blog.
With this re-launch, we hope to engage our visitors in hopes of removing some of the negative stigma that's associated with the topic of filing a lawsuit after an automobile accident.
Attorney Jeffrey Rasansky has been practicing personal injury law professionally for almost a quarter-century. In this time, he's helped countless auto accident victims recover compensation following an injury accident, as well as those who have lost a family member in a fatal accident.
Take a moment to browse http://www.dallascarcrash.com/ - We hope you'll find it informative and east to navigate. Follow us on Twitter for more car accident news!