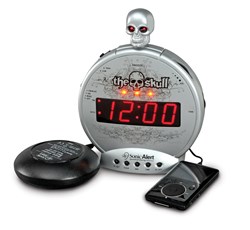 (PRWEB) October 10, 2013
The Skull alarm is so loud that it will scare users right out of their sheets, waking up has never been so hair-raising. In addition to the 113 dB alarm, The Skull comes with a 12 volt bone-crusher vibrating unit to shake the bed, and red flashing alert lights that will go off with the alarm. By combining these features, there is no doubt that it will wake anyone up and maybe even spook them, too.
The new version features user-programmable snooze and alarm duration, improved battery backup and the Sonic Alert Green Power technology that uses 60% less energy.
When the alarm goes off, the skull on top of the clock awakens with demon-like bright red flashing lights out of its eyes until the alarm is shut off. After being scared awake, users can calm themselves down by listening to music through a built-in mp3 input for smartphones, mp3 player or tablet.
For more information, contact Sonic Alert 1050 East Maple, Troy, MI 48083. Phone 248-577-5400, Fax 248-577-5433, or visit http://www.sonicalert.com. Sonic Alert provides products to improve the lives of the hard-to-wake, elderly and the hard of hearing. They are committed to continually producing new and innovative products that fill their customers' needs.