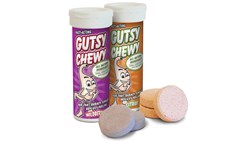 Although there are pharmaceuticals to alleviate uncomfortable symptoms, I wanted to find a natural solution.
Anchorage, AK (PRWEB) October 10, 2013
Gutsy Gum, LLC is pleased to introduce its first product, Gutsy Chewy, an all-natural oral and digestive supplement formulated to help calm gastrointestinal distress. Gluten free and lactose free, Gutsy Chewy contains a proprietary blend of natural papain (papaya), apple cider vinegar and licorice root (GiGs™) with Xylitol, calcium and magnesium.
"Over the last 10 years, I've heard from thousands of patients who suffer repeatedly from the unpleasant effects of digestive disorders, ranging from acid reflux and hepatitis to inflammatory bowel disease," said Dr. Doug Haghighi, founder and board certified gastroenterologist and dentist. "Although there are pharmaceuticals to alleviate uncomfortable symptoms, I wanted to find a natural solution." Haghighi researched natural remedies and, using his experience and medical training from Harvard and the Cleveland Clinic, developed the formula for Gutsy Chewy.
The ingredients in GiGs™ – Gutsy's proprietary blend of apple cider vinegar, papain, and licorice root – were designed to enhance the body's defenses against that queasy, refluxy feeling, which Haghighi refers to as GutBurn™. All three ingredients have been used in some form for medicinal purposes for centuries. Haghighi had GiGs™ assessed by leading U.S. toxicologists to support his research and they found it to be safe at the levels recommended.
Haghighi added Xylitol, a naturally occurring plant alcohol that enhances oral health, and calcium and magnesium for their antacid qualities. The result is a chewable oral supplement that has a slight fizz when you bite into it. Gutsy Chewy is available in two flavors: Citrus and Wildberry.
To confirm the effectiveness of Gutsy's proprietary formula (GiGs™) that includes calcium, a double blind, randomized placebo controlled human clinical trial was conducted through two universities: the University of Otago in New Zealand and the University of British Columbia in Canada. The clinical trial confirmed Gutsy's effectiveness to alleviate symptoms of heartburn and acid reflux, reducing these by nearly 50% compared to the placebo. The results have been submitted to a peer reviewed journal.
Made in America, Gutsy Chewy is available in single packs of eight tablets ($13.99 including shipping), in twin packs ($19.99 including shipping), and in cartons of 12 single packs ($84.99 including shipping). Gutsy Chewy may be ordered online at gutsyproducts.com and shipped to any US address.
About Dr. Haghighi
Douglas Haghighi, D.M.D, M.D., was graduated cum laude in 1997 from the Harvard School of Dental Medicine. In 2000, he entered Case Western Reserve University to study internal medicine. Dr. Haghighi sub-specialized in gastroenterology at the Cleveland Clinic Foundation and served as Chief Fellow in 2004 and 2005. He is board certified in internal medicine and gastroenterology. Married and a father of three, Dr. Haghighi is in private practice as a gastroenterologist in Anchorage, Alaska.
Gutsy Gum, LLC is based in Anchorage, Alaska. The company is dedicated to developing all natural products to optimize oral health and alleviate the symptoms of gastrointestinal distress. GiGs™ and GutBurn™ are trademarks of Gutsy Gum.
###
For more information about this product, or to schedule a conversation with Dr. Douglas Haghighi, founder and developer of Gutsy Chewy, please email margaret(at)gutsyproducts(dot)com.