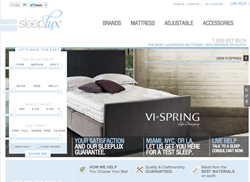 "We are proud to help consumers find the perfect luxury brand mattress," said Christopher Nelson, VP of Product Management, "Making it easy to navigate brands that may have been difficult to find sufficient information for was a goal from the beginning."
Miami, FL (PRWEB) October 10, 2013
SleepLux.com, a premier high end luxury mattress informational website, today announced their launch of their new website, designed from the ground up to assist in the purchase decision making process of high end mattresses.
SleepLux.com pairs an innovate filter system that sorts by type of sleeper, price, size and firmness with sleep experts with over 10 years experience available by phone for further consultation. The sleep experts will be able to help fine-tune your experience by matching your Body Mass Index (BMI) to the recommended coil tension of a particular mattress. By taking in the customer's preference for materials, tension, and features the experience becomes a custom solution.
"We are proud to help consumers find the perfect luxury brand mattress," said Christopher Nelson, VP of Product Management, "Making it easy to navigate brands that may have been difficult to find sufficient information for was a goal from the beginning."
SleepLux.com features two primary elite brands: Vi-Spring and Carpe Diem. The Vi-Spring brand is known absolute conviction in the excellence of their luxury beds. The British company stands by an unyielding promise for profound comfort, artfully weaving by hand the world's finest materials with an unparalleled level of craftsmanship that is rooted in over a century of expertise.
Carpe Diem produces the finest, most environmentally sustainable beds in the world. The Carpe Diem philosophy is based on a basic principle: Tomorrow begins as today ends, placing great importance on quality of rest. High quality rest rejuvenates the mind and warms the soul. Without it, the body is left tired and unable to take advantage of life's boundless adventures. Carpe Diem beds are also renowned for their incredible Swedish design and capacity for customization.
The launch of SleepLux.com will take place on October 10, 2013.
For more information, please visit http://www.sleeplux.com
Vi Spring is a registered trademark of Vi Spring, Inc. Carpe Diem is a registered trademark of Carpe Diem Co, Ltd.
Press & Media Contact:
Christopher Bridle
PR Manager
chrisbridle(at)selectfoam(dot)com