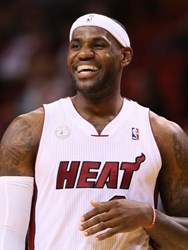 Denver, Colorado (PRWEB) October 10, 2013
October is one scary month, but it's not just Halloween. It's also the absolutely amazing level of intensity from the diamond to the gridiron to the ice and hardwood.
It's the one month when all four major professional American sports leagues are hyper active, to put it mildly. And, it runs right on down through the college, high school and starter leagues as well for coaches, players, parents and fans alike.
MLB Baseball is in the white-knuckle post season. The Division Championships start this weekend and Game 1 of the 109th World Series starts in about two weeks on October 23. NFL Football is going on Game 6 of the 16-game regular season with plenty of high drama too, and ticket sales to match.
NHL Hockey hit the ice on October 1, and is now about five games into the 82-game regular season. Then there's basketball. The preseason began October 5 and now, the 68th NBA 82-game regular season tips off in about two and a half weeks on October 29 with LeBron James and the defending champion Miami Heat hosting the Chicago Bulls.
"While MLB Baseball, NHL Hockey and NFL Football tickets are all trending, we're seeing a jump in sales for NBA tickets as well," said Felina Martinez at online ticket marketplace BuyAnySeat.com.
"That's why we're proud to offer sports fans the most comprehensive and continuously updated selection of sports tickets online, with a worry-free guarantee to protect their purchase," said Martinez.
"To access the full line-up of NBA Basketball tickets now available, customers can go to BuyAnySeat.com and click on NBA icon – then select their team and their tickets," said Martinez.
"E-tickets are also available, enabling fans to instantly download their tickets. Simply click on the yellow icon next to the ticket icon to get started."
The NBA regular season is set to run through April 16, 2014, followed by the playoffs and finals in June – just as MLB Baseball is heating up their 162-game season. The 2014 NBA All-Star Game will be played on February 16, 2014, at the New Orleans Arena in New Orleans, Louisiana.
During the offseason, 13 teams made coaching changes. The New Orleans Hornets became the New Orleans Pelicans. And, the Charlotte Bobcats will become the Charlotte Hornets again for the 2014–15 season – and for the first time since the 2001–02 season.
The Cleveland Cavaliers won the #1 draft for the second time in three years and tapped Anthony Bennett of UNLV. The NBA also officially implemented a tournament system, won by the Oklahoma City Thunder and Golden State Warriors of the Orlando and Las Vegas Summer League Tournaments respectively.
Last season ended on June 20, 2013 with the Miami Heat defeating the San Antonio Spurs in seven games to win the 2013 NBA Finals. Top Eastern conference teams, in order of season-ending rank, were the Miami Heat, New York Knicks, Indiana Pacers, Brooklyn Nets, Chicago Bulls, Atlanta Hawks, Boston Celtics and Milwaukee Bucks.
Leaders in the Western Conference were the Oklahoma Thunder, San Antonio Spurs, Denver Nuggets, Los Angeles Clippers, Memphis Grizzlies, Golden State Warriors, Los Angeles Lakers and Houston Rockets.
Last year, the Heat led the sport with a 66-16 record for a .805 winning percentage. The New York Knicks Carmelo Anthony had the most points per game at 28.7. LeBron James took home season MVP, led the league in Efficiency Per Game with 31.6, and scored a season-best seven Triple-Doubles.
To shop for discount NBA Basketball tickets, visit BuyAnySeat.com.
About BuyAnySeat.com: An online ticket marketplace, BuyAnySeat.com connects sports, theater and other live entertainment fans to an extensive network of ticket sellers worldwide. The site's simplified listings and navigational tools enable shoppers to easily locate, compare and purchase inexpensive, discounted or lower-priced tickets to virtually all advertised sports and entertainment events around the globe.
The ticket marketplace, which is PCI-compliant and Norton Secured, also provides customers with a complete Worry-Free Guarantee on all ticket purchases. Based in Denver, Colorado, BuyAnySeat.com is a subsidiary of Denver Media Holdings. For more information, please visit http://buyanyseat.com.