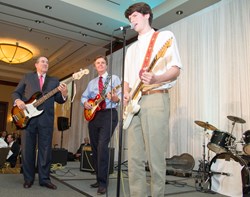 "I ask you to join me in supporting LifeHouse of Houston and continuing their 25 year commitment of providing for young pregnant women, ensuring a brighter future for both mother and child," said Former Governor Mike Huckabee
Houston, Texas (PRWEB) October 09, 2013
The Former Governor of Arkansas, host of Fox News' number one rated weekend show HUCKABEE and syndicated radio host of The Huckabee Report touched down in Houston for LifeHouse's 25th Anniversary Celebration Dinner, "A Toast to Life." A crowd of nearly 650 packed the Omni Hotel to hear a compelling speech from the evening's headliner, Huckabee, who inspired guests "to save a life right where they are by supporting young women who choose life."
The Celebration kicked off with a reception where guests could mingle and get their photograph taken with the Former Governor. Spotted in the crowd were Laura and William Wheless, Nina and Edd Hindee, Elizabeth Wareing, Deana and Larry Blackburn, Gracia and Robert Duncan, Ellen and Leo Linbeck III, James Reckling, Tiffany and Charles Masterson, Martha Turner and Glenn Bauguss, Mollie and Kent Wallace, Susan and Charlie Neuhaus, Devin and Ryan McCord, Margaret Hotze, and Andrea and Trent Tellepsen.
Guests were delighted when Huckabee capped the night off with a rock star performance, alongside old friend Texas Senator Dan Patrick and local high school band The Watchtowers. A curious turn of events occurred when raffle winner, Greg Elliott was presented with the bass guitar that Huckabee just played, decided to donate it to the LifeHouse team. The guitar went a lucky winner for $5,000. LifeHouse Director of Advancement Courtney Abernethy said, "the extra $5,000 and Huckabee's amazing live auction skills was an added bonus." The Former Governor concluded the evening by toasting with the guests to 25 years of the transformational work of LifeHouse.
Event chairs Laurence and Henry Bragg, Mary Clark and Chris Granberry, Paige and Houston Lane, Kathryn and Adam Roark, Allison and Spencer Stasney, Ashley and John Stevens and Cecie and Kyle Turlington with Estela and David Cockrell as honorary chairs raised almost $500,000 for LifeHouse of Houston.
Life House is a Christ-centered ministry licensed by the State of Texas to provide housing for pregnant women ages 12-24 years old, regardless if they plan to parent or place their baby in an adoptive home. The two maternity-home campus is not a shelter but a home staffed with house parents that manage a household built on Biblical principals. This unique family model allows for each girl to be uniquely cared for physically, emotionally, intellectually and spiritually, making a greater sustainable impact.
LifeHouse is a not-for-profit charitable IRS 501(c)(3) status. LifeHouseHouston.org
Contact: Courtney Abernethy – Director of Advancement
Courtneyabernethy(at)gmail(dot)com
832-630-0296