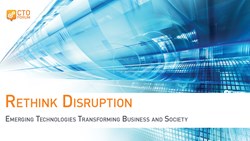 Santa Clara, CA (PRWEB) October 15, 2013
The CTO Forum, a premier organization for senior technology executives and business leaders, is proud to announce the keynote speakers for its Rethink Disruption: Emerging Technologies Transforming Business and Society conference, which will be held at the St. Regis Hotel in San Francisco, November 11-12 2013.
Rethink Disruption is designed specifically for technology executives who are committed to recognition, development and capitalization of transformative innovations. This two day conference will comprehensively address the key breakthroughs and paradigm shift technologies that are truly positioned to create significant impact and disruption. Attendees will learn how the established and growing enterprise can best adopt emerging technologies to beat the cycles of decay, irrelevance and complacency and kick start the new engines of growth. Participants will also delve deeply into the breadth and scope of opportunities presented by the breakthroughs in engineering, science and technology.
The keynote speakers will include:
Andy Bechtolsheim – Founder, Chairman, and Chief Development Officer of Arista Networks
Andy is one the most successful entrepreneurs in the US. He cofounded Sun Microsystems, invented the workstation, was Google's first investor and founded a list of successful companies. As Chief Development Officer of Arista Networks, he is responsible for the overall product development and technical direction of the company.
Stephan Biller - Chief Manufacturing Scientist at GE
Stephan is responsible for GE's advanced manufacturing strategy and the development of GE's Smart Manufacturing Initiative across GE businesses to increase performance and productivity.
Paul McEuen - John Newman Professor of Physical Science at Cornell University
Paul directs the Laboratory of Atomic and Solid State Physics and the Kavli Institute at Cornell for Nanoscale Science. He is one of the world experts on carbon nanotubes and a member of the National Academy of Sciences as well as a fellow of the American Physical Society.
Rodney Brooks - Founder, Chairman, and CTO of Rethink Robotics
Rodney is widely known for his scientific contributions to computer vision, mobile robots, humanoid robots, artificial intelligence, and artificial life. His current company Rethink Robotics is developing a new class of industrial robots that will help keep manufacturing jobs in the United States. He was also co-founder and CTO of iRobot and director of MIT's Computer Science and Artificial Intelligence Laboratory.
Kerrie Holley - IBM Fellow and CTO
Kerrie is recognized internationally for his innovative work in architecture and software engineering centered on the adoption of services and Service Oriented Architecture. He is also a consultant in IT Strategy and Transformation, enterprise architecture and application development. He is now part of IBM Research focused on scalable business services and the emerging API economy.
Steven Gray - Chief Technology Officer for CSR
Steven is responsible for creating advanced technologies, expanding new business areas and developing the core IP required for CSR future products.
Cynthia Kenyon – Director of the Hillblom Center for the Biology of Aging at UCSF
Cynthia was the first to look for genes on the basis of their expression profiles, discovering that DNA damaging agents activate a battery of DNA repair genes in E. coli. Her discovery that a single-gene mutation could double the lifespan of C. elegans sparked an intensive study of the molecular biology of aging. These findings have now led to the discovery that an evolutionarily conserved hormone signaling system controls aging in other organisms as well, including mammals. She has received many honors and awards for her findings.
The agenda also includes seven panel discussions focused on advances and breakthroughs in cognitive computing, material science, manufacturing, robotics, biotechnology, location based services and semiconductor. The panelists are world-class experts, innovators and thought leaders from leading companies and prestigious universities. A complete list of Rethink Disruption's panel speakers can be found at http://www.ctoforum.org.
For more information and to register for the event, visit http://www.ctoforum.org