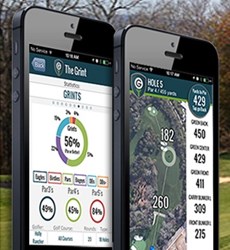 These new features will continue to make TheGrint the best golf handicap tracker and GPS in the market.
Miami, FL (PRWEB) October 10, 2013
The latest release of TheGrint's iPhone app is now available on the iTunes app store. Now there is more than USGA golf handicap and golf GPS rangefinder, the new version hosts a fully redesigned suite of stats that complements the website's suite of stats. On top of that, there is a redesigned navigation bar while tracking scores that allow users to keep track of their score, see a digital Scorecard, navigate quickly from hole to hole and turn on and off the GPS rangefinder to save battery life.
TheGrint had already announced that they would be releasing this new version in October, and it is finally out. One of the features that had not been announced was the new menu link on the home screen that provides access to edit profile and adding friends.
The new stats suite provides historic performance on Scores, Greens in Regulation, Fairway Accuracy, Par 3 Accuracy, Putts, Grints (Par or Better percentage), Scrambling and Penalties. And while it doesn't provide trends, it gives a good snapshot of current performance. It also provides a filter to see friend scores and rounds on specific golf courses.
"The new digital scorecard was one of the most recurrent requests," said J. Torbay, one of the founders of TheGrint. This new scorecard allow the user to keep track real time of stats and performance on current round.
The management team believes that these new features will continue to make TheGrint the best golf handicap tracker in the market and the golf GPS rangefinder market.