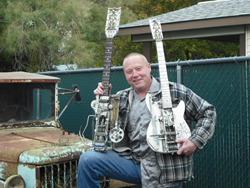 I did this for the love of the instrument
Baker City OR (PRWEB) October 11, 2013
After 5 prototypes, over 20 years and a successful patent, inventor Gordon Bonebrake is making a bid to bring his game-changing mechanical guitar to production with a Kickstarter campaign. This guitar is both transposable and stays in tune indefinitely. "This unique ability will greatly empower both beginning and experienced players", Bonebrake said. Also, he said, "it marks the beginning of a wave of guitar innovation that only this unique tuning device makes possible". Bonebrake is looking to spread the word about his project far and wide. Bonebrake needs 5,700 backers by the end of the pledge period, November 1, in order to successfully fund using this method.
Bonebrake Guitar's plans
This guitar, dubbed the Riff-Raptor, which Bonebrake hopes to be but the first in a line revolutionary guitars, is made mostly out of stamped stainless steel. Using the same basic tuning device Bonebrake Guitar intends to build 3 different models in rapid succession, and "one pretty far out one once we are comfortable with our basic lineup," he said.
A second offering, which he hopes to debut shortly after the Riff-Raptor, he describes as a a non- instrument-invasive, easy to install, after market model for the guitars everybody already owns. Then, simultaneously, he would like to start the R&D on a Transformer-like folding travel guitar and a pre-set, under $30, plastic model for the children.
How it works
The Riff-Raptor operates on 2 systems, a tuning system and a control system. The tuning system essentially takes the 6 individual strings of a guitar and mechanically makes them 1 by connecting them all with adjustable levers. The control system is there simply to allow the player to easily, and effortlessly transpose the instrument while playing.
Why Kickstarter?
"Kickstarter was clearly the most logical way to proceed from where we were," Bonebrake said. "Many elements of a Kickstarter project are very similar to those required of an investors pitch,so this would be, at least, a good exercise. If I were to successfully fund outside of the traditional profit focused mechanisms I believe there would be fewer obstacles to future product innovation." To visit Gordon Bonebrake's Kickstarter project, please visit
http://www.kickstarter.com/projects/267495394/riff-raptor-guitar
Contact
Gordon Bonebrake, bomeluco(at)hotmail(dot)com
1005 S. Bridge St. Baker City, Or
Phone: 1-541-403-2455