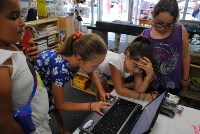 I fear that the gender disparity that has existed for so long in the sciences will continue. How can we fix this? - Dr. Leonisa Ardizzone
New York, NY (PRWEB) October 11, 2013
A recent article in the New York Times, "Why Are There Still So Few Women in Science?" by Eileen Pollack asks the question many science educators and women scientists have pondered for years. The article, and the research it is founded upon point to the continued under-representation of women in the sciences and uncovers some of the underlying causes.
Dr. Leonisa Ardizzone, founder of Storefront Science has long grappled with this question as well, writing about it in the Huffington Post "Girls & Science: Why Are We Still Having This Conversation?" among other places. When she founded Storefront Science, her hope was to inspire a love of science in all children, but she secretly hoped that she could also bring more young girls into the wonderful world of science.
To reach her goal of increasing female participation in science, she has designed a special series ScienceGirls@StoSci. On the third Friday of each month, Storefront Science will host girls ages 8-14 to engage in some science play and science discussion with practicing female scientists. The program kicks off on Friday, October 18th, 3:00 - 5:30 with Dr. Laura Kaufman - Chemistry faculty at Columbia University and her research team.
To encourage participation, the cost for the event is only $20. Advance registration is necessary. Reserve a spot via email or phone.