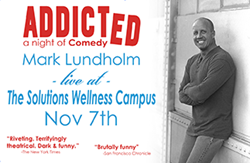 Bill Gates once said, 'It's really kind of cool to have solar panels on your roof.'
Las Vegas, NV (PRWEB) October 11, 2013
In 2012, Service 1st Energy and the Solutions Foundation come together advocating for a special cause: wellness inside and clean energy outside. On November 7th, performing live will be famous comedian, Mark Lundholm, recently seen on Comedy Central, Showtime, A&E, CBS and NBC. He will feature his critically acclaimed show, ADDICTED.
Right on the heels of the holiday season, this event showcases steps for a clean makeover, both inside and out, giving a twist to the typical evening of entertainment. Service 1st Energy Solutions and the Solutions Foundation will use this as a platform to help Las Vegas residents start the New Year fresh, without utility bills or addictions.
Dave Marlon, founder of Solutions Foundation believes in bringing these two great causes together, "Bill Gates once said, 'It's really kind of cool to have solar panels on your roof.' At The Solutions Foundation we agree. We also think it's cool not to use drugs, and without illegal drugs we can live not only healthier, but also as happier, more productive individuals."
In 2012, Service 1st Energy Solutions was on a mission to provide clean energy for nonprofit churches and schools. Scott Shaw, head of business development for the nonprofit sector of Service 1st Energy Solutions, lobbied on the behalf of numerous organizations to provide solar power that would eliminate utility bills, saving each organization thousands of dollars every year.
Scott Shaw sought after Solutions Foundation, a highly respected and reputable drug and alcohol recovery center, serving both adults and children in the Las Vegas area. Shaw discovered this unique, unserved niche that could greatly benefit from solar power. Then he focused in on seeking funds to pay for the solar system.
Shaw set his sights on the NV Energy lottery, handling the filing for Solutions Foundation. They received a $24,450 award toward a $50,000, 9.12kWDC system. With this award, Service 1st Energy Solutions was able to install 32 solar panels, eliminating over $2,000 in annual expenses, assessed at today's rates (not including typical yearly increases).
A change is definitely coming as Service 1st Energy Solutions and Solutions Foundation work to eliminate power bills and addiction, boosting the Las Vegas economy through clean energy and ultimate wellness.
For more information about this event, please visit ADDICTED: A Night of Comedy.
About Service 1st Energy Solutions
Service 1st Energy Solutions specializes in energy efficient packages including HVAC upgrades, weatherization options and solar power for both Las Vegas residences and commercial businesses. With over 25 years of experience serving southern Nevada, Service 1st Energy Solutions focuses on educating consumers about energy efficient solutions. Installations completed by Service 1st Energy Solutions include over 15,000 solar panels that are currently generating over 3 megawatts of solar power to the Las Vegas area.