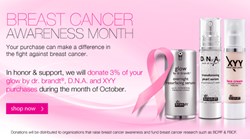 Miami, FL (PRWEB) October 10, 2013
What It Is: In honor of National Breast Cancer Awareness Month, dr. brandt skincare will donate a portion of the proceeds from any glow, DNA or XYY online purchases from October 1st through 31st. Simply pick up one of these breakthrough anti-aging products on http://www.drbrandtskincare.com during the month of October and you'll be helping to support breast cancer awareness, fund invaluable research, and enable lifesaving treatment. All donations will go to the important work done by Florida Breast Cancer Foundation (FBCF) and The Breast Cancer Research Foundation (BCRF).
glow by dr. brandt™: This radiance-boosting collection was inspired by one of Dr. Brandt's most sought-after treatments: Ruby Lasers. Dr. Brandt recreated the glow effect of the in-office treatment in an at-home collection by harnessing the illuminating quality of Micronized Ruby Crystals, which boost skin's ability to reflect light and promote an even, healthy glow. At the same time, Retinol increases cell renewal and improve skin texture. The glow collection includes:

glow by dr. brandt™ overnight resurfacing serum ($85)
glow by dr. brandt™ ruby crystal retinol hydracrème ($65)
glow by dr. brandt™ revitalizing retinol eye cream ($55)
glow by dr. brandt™ travel kit ($65).
Do Not Age (DNA): This breakthrough collection goes straight to the source of skin aging, delving to the DNA level to stop and turn back the cellular clock. Harnessing unprecedented technology years in the making, Do Not Age targets the DNA's mistakes and malfunctions to stop lines, wrinkles, sagging, dullness and loss of volume.The DNA collection includes:

DNA transforming pearl serum ($150)
DNA time reversing cream ($130)
DNA triple peptide eye cream ($80)
DNA firming neck cream ($65)
Xtend Your Youth (XYY): Prevent and defy aging with this powerful collection, derived from plant-based ingredients to preserve, protect, smooth and hydrate. The ultimate youth guardian, XYY employs an exclusive combination of nature and technology—the A3—to fight stress and aging due to free radicals and external aggressors. The regimen is the ultimate must-have for facing daily aggressors in our environment and counteracting the effects of a hectic, stressful lifestyle. The XYY collection includes:

XYY Dual Fusion Water ($29)
XYY Face Cream ($59)
XYY Eye Cream ($45)
Where to Find It: http://www.drbrandtskincare.com
About dr.brandt® skincare:
dr. brandt® skincare is based on the vision and direction established by world-renowned celebrity dermatologist, Dr. Fredric Brandt. He has dedicated over 30 years of research, practice and experience as the visionary leader of his Dermatology Research Institute, Dermatology Associates and medical practices in New York & Miami. Dr. Brandt's passion and dedication has led to the creation of innovative, high-potency formulas to reset the clock. Experience skin-changing science, when you take the doctor home with you®.
About the Charities: For more information, please see: Florida Breast Cancer Foundation at http://www.floridabreastcancer.org/ and The Breast Cancer Research Foundation at http://www.bcrfcure.org/.