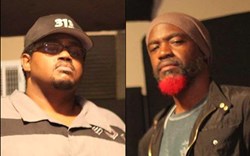 We don't like doing album fillers. You want a single, come to us.
Atlanta, GA (PRWEB) October 10, 2013
Earth, Wind & Fire is back on the charts with help from Fulton Yard Unlimited, LLC, the powerhouse production company headed by Grammy-Award winning Mix Engineer and producer, Neal H Pogue (TLC's "Waterfalls," Outkast's "Hey Ya") and Walter "WaltB" McKennie (M.I.A.'s "XXXO Remix," feat. Jay Z).
With their enduring legacy as one of the greatest bands of all time, nominated for 20 Grammys and winning six, The Rock and Roll Hall of Fame Inductees are still selling out shows all over the world and are now enjoying the fact that their first album in eight years, Now, Then & Forever debuted at number 11 on the Billboard Hot 200 Charts (their highest charting album in over 30 years) led by the singles "Guiding Lights" and "My Promise," produced by Fulton Yard Unlimited.
"We like to go for singles every time we produce a record," says WaltB. "We don't like doing album fillers. You want a single, come to us."
More than just a great record, from the first notes of the horn section on "My Promise," it's apparent you're listening to a quintessential Earth, Wind & Fire song – something the men of Fulton Yard Unlimited aimed for from the very beginning, immersing themselves in all things Earth, Wind & Fire two full years before the release of the album.
"One of the things that was interesting was Neal knew a lot about our music," said the band's bassist, Verdine White. "That's always a big help with a veteran band. He knew what we meant musically and to the public."
"I was a little nervous about filling Maurice (White)'s shoes, even though no one could ever fill his shoes," says Pogue, who was in direct contact with the band's co-founder, and main producer and songwriter for the past three decades. "I never would have thought we would be handed the baton to produce a group handled by Maurice White. To hear his opinion and have him give me his advice, it felt so good to have his stamp on it. It was an amazing experience. Surreal is the only word I can actually find to describe it."
Fulton Yard Unlimited (also comprised of songwriters and producers Austin Jacobs and Darrin Simpson of Black City Music Group) produced and provided additional production on a total of six tracks from the Now, Then & Forever album, including, "Sign On," "Belo Horizonte" and "Got to Be Love." The album is now receiving rave reviews for featuring an updated sound that still contains the heart of what's made Earth, Wind & Fire one of the greatest bands of all time:
"…the most surprising thing about Now, Then & Forever is how up-to-date Earth, Wind &Fire sound… They haven't lost a step. Now, Then & Forever has all the old colors and grooves, an impeccable rhythm section, prominent guitars, and indomitable horns that trace and re-trace motifs, dancing rings around everything." – Popmatters.com
"The new album from Earth, Wind & Fire, Now, Then & Forever, marks a return to the signature sound that made them international superstars." - Amazon.com Editorial Review
Earth, Wind & Fire's Now, Then & Forever is currently in stores. For more information on Fulton Yard Unlimited, visit http://www.fultonyard.com or http://www.nealhpogue.com.