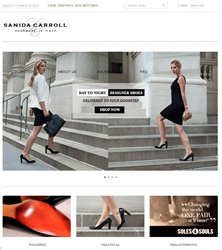 Instead of spending money buying brand name designer shoes for social status, when you purchase Sanida Carroll shoes, you create social impact.
New York, New York (PRWEB) October 10, 2013
Thanks to the new footwear brand Sanida Carroll, professional women everywhere can enjoy stylish shoes that are a perfect marriage of form and function. The sophisticated shoes are designed to be on-trend, but also practical enough to allow a woman to walk into any situation with confidence and comfort.
Based in New York, sanidacarroll.com was founded by Sanida Carroll in 2013. After years of traveling the world's airports during her management consulting career, she realized the need for high-quality, elegant, and comfortable shoes for professional women at a reasonable price point. "I was inspired by the fine leather and quality of Italy's bespoke craftsmanship," she explains. "So I decided to launch my own shoe brand to bring handmade luxury to everyday footwear."
--Easing the Pain of Feet and Wallets Everywhere--
Carroll developed her shoes around what she calls her "3-P Principles: Polished, Practical, and Philanthropic." The company's shoes are designed to fit active women's lifestyles and are handmade by skilled artisans, using the finest quality of leather in stunning pumps and flats. "We hand-pick only the highest grade of soft, eye-catching, and long-lasting leather from the best tanneries in Italy," explains Carroll. These tanneries work with the world's top shoe brands and fashion houses to imbue Sanida Carroll shoes with luxury quality that Carroll says you can see and feel immediately.
Sanida Carroll shoes are offered exclusively online. As a result, the brand has a more reasonable price point than shoes of comparable quality that are typically found in boutiques and retail stores. This means significant savings for consumers. "By selling our products exclusively online through our website, we can cut the middlemen," explains Carroll. "We are able to eliminate the standard 200%-400% retail price mark-up and pass the savings on to our customers."
--Social Status vs. Social Impact--
"Instead of spending money buying brand name designer shoes for social status, when you purchase Sanida Carroll shoes, you create social impact," reports Carroll with pride. She is referring to the company's partnership with Soles4Souls, a non-profit global partnership that supports micro-business efforts to eradicate poverty.
A native of Thailand and a graduate of the Columbia Business School, Carroll has been deeply moved by the suffering she's seen in her world travels, especially to places like Cambodia and Haiti. "It was a year after the earthquake in Haiti and the markets were filled with children walking barefoot," she recalls.
While in Haiti, kismet put her in contact with a representative of Soles4Souls and a philanthropic partnership was born. "For every pair of shoes we sell, we donate a pair to Soles4Souls," reports Carroll.
In this way, Sanida Carroll shoes represent the "holy grail" of footwear for women who want stylish, work-appropriate high heels and flats that are polished and practical, and sold by a company with a social conscience.
--People Are Talking About Sanida Carroll--
"Unlike other upscale designer pumps and low-heeled footwear that often do nothing but cause blisters, our shoes have been developed by fine Italian craftsman to ensure the most comfortable fit," reports Carroll. Her customers agree.
"Little did I know it was possible to wear a beautiful pair of heels for 11 hours straight. That's exactly what I did when I first slipped on my Sanida Carroll shoes to work and voila - no blisters, no bandages, and no wobbling," reports Farah R., a financial services consultant. "The shoes strike the delicate balance between functionality and sophistication, combining chic gold accents with superior craftsmanship to help me run between meetings, dinners, and dates without having to carry an extra pair of shoes to change into. They are synonymous with what I call, 'corporate glamour.'"
"The craftsmanship of Sanida Carroll heels is in line with top luxury Italian brands, and beyond the workmanship of any heels I have seen in the market at the same price range. I could tell from the first glance that the shoes are exquisitely handmade from first-class materials," says Marcella S., an engagement manager at a top consulting firm. "The fit of the shoes is just as comfortable to run through the airport as it is to enjoy a night out. I will definitely recommend them to my colleagues and any professional women who are looking for stylish yet practical work shoes."
For additional information about Sanida Carroll shoes, to browse their online catalogue, place an order, and learn more about the company's partnership with Soles4Souls, please visit sanidacarroll.com.
--About Sanida Carroll--
Sanida Carroll is a luxury footwear brand with a "3-P Philosophy" when it comes to women's shoes: polished, practical, and philanthropic. The company offers exquisite, handmade Italian pumps and flats for stylish professional woman who need footwear that is functional as well as fabulous, but without an outrageous price tag. Through its partnership with Soles4Souls, the company provides a pair of functional shoes to someone in need, matching pair-to-pair for each pair sold.