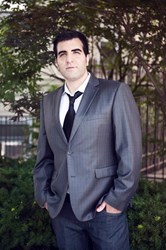 If I can reach some of these students to make a change or take a chance, then I have achieved my goal.
Boston, MA (PRWEB) October 10, 2013
After making a dent in the fashion world, Sam Sisakhti turns his attention to education with a college speaking tour. He sets out to create learning which is more pragmatic and real-world based, rather than conceptual business formulas, while motivating students to pursue their passions.
Every year hordes of students around the country sit in classrooms not quite sure what all of these formulas and nutty professors are talking about. Sam Sisakhti can relate. Just a few years ago he was one of these students. Every day he was taking courses in a major he loathed and dreading the day he would have to join the job force and take on the 9 to 5 lifestyle.
Upon graduation, like others who were fortunate enough to even get a job, he took a position in corporate finance. After 4 days of misery, he quit his job and followed his heart and launched a fashion company.
Five years later his company is a multi-million dollar business, has gained investments from some of the world's largest investors, and has helped make a change in the world.
He is taking his story on the road, literally, speaking in various states including MA (BU), RI (URI), NY (NYU), as well as many other schools and states. He hopes to motivate students to pursue their dreams and follow their hearts, as well as give a real-world pragmatic approach to education. Through his stories and advice, he pulls back the covers and exposes what it is really important vs. just text book fluff.
Through his lectures he will misspell some of the misconceptions of the business world, what skills it really takes to create a business, and other nuggets of information. "I hope to turn my attention to education more and more in my life and give back to students and invest my time in the educational system. If I can reach some of these students to make a change or take a chance, then I have achieved my goal," said Sam Sisakhti.