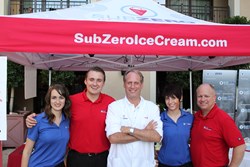 Park City, UT (PRWEB) October 10, 2013
From October 13-17, franchisees, area developers, and vendors at Sub Zero Ice Cream & Yogurt will gather in Park City, UT for the annual corporate conference. As the company grows rapidly, the Sub Zero corporate office will announce new stores and provide a standardized foundation for the future.
Franchisees from California to Florida and in between will gather to receive training and updates from the Sub Zero Ice Cream & Yogurt corporate office. As the company expands throughout the United States and internationally, the corporate conference will be an annual occurrence in various locations.
"With hundreds of stores scheduled to open in the next ten years, it is important that everyone is on the same page," said Jerry Hancock, CEO of Sub Zero Ice Cream & Yogurt. "The annual conference allows us to standardize each store and increase efficiency for future growth."
In addition to marketing, public relations and operations training, franchisees will hear from motivational speaker Ty Bennett. The conference will be packed with information and training that will launch Sub Zero Ice Cream into a successful future.
With two new stores opening up in California, one in Abu Dhabi and several in the East, Sub Zero is well on its way to leading the liquid nitrogen ice cream industry.