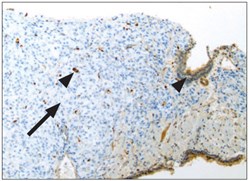 Irving, TX (PRWEB) October 16, 2013
Since July, 2013, Miraca Life Sciences (MLS) has been providing a new genomic testing protocol that helps Urologists guide better treatment decisions and determine outcomes in prostate cancer patients. MLS says two important genetic abnormalities occur in 50-60 percent of prostate cancer patients: one is characterized by loss of a protective gene known as PTEN, and another by over expression of the cancer-promoting gene ERG. Assays that analyze for PTEN and ERG genomic abnormalities are the latest addition to the extensive menu of MLS pathology services that support a personalized approach to cancer care.
Rajal B. Shah, MD, Director of Urologic Pathology at MLS, explains, "In normal cells, there is a mechanism of instructions governed by DNA, housed within the cell nucleus, the "brain" of the cell. These instructions include complex pathways that tell cells how to metabolize nutrients, send messages to other cells, reproduce themselves, and to die off when they have served their purpose."
Shah continues, "These pathways are regulated by 'gene expression,' the traffic controllers of what and how much each cell does. When there is a genetic mutation, the normal controls are lost, causing cells to perform improperly with unwanted consequences. This is when diseases, such as cancer, can occur."
Scientists have found two important scenarios of this genetic variance to be a widespread occurrence in prostate cancer. In one scenario, a gene called PTEN (phosphatase and tensin homolog) fails to function. PTEN is a gene which normally acts as a tumor suppressor that prevents cells from growing and dividing too rapidly (out of control). Loss of this gene may typically causes loss of function of the protein for which the gene codes. When cancers demonstrate this "PTEN loss," the disease may be more aggressive and there is often a reduced response to conventional therapies.
The second genetic abnormality involves ERG-- erythroblast-related gene. This gene's primary function is to tell cells when to die off. Under certain circumstances that are not well understood, it can fuse with another gene called TMPRSS2. When this fusion between ERG and TMPRSS2 occurs, the gene is "overexpressed," and the normal pathways of creating new cells is greatly accelerated but without the normal mechanisms to ensure that cells die at the right time.
Scientists now know that when a prostate patient has PTEN loss, or both PTEN loss and ERG overexpression, the cancer may be more invasive and aggressive. MLS urologic pathologists can find evidence of these genetic abnormalities, called biomarkers, through sophisticated laboratory tests. Understanding the unique genetic profile of each prostate cancer patient helps clinicians more fully understand the scope and level of disease, and to optimize outcomes through a personalized therapy aligned with genetic responsiveness.
According to the American Cancer Society (ACS), prostate cancer is the second most common cancer in men, with one case diagnosed in every six men. The ACS estimates about 240,000 men will be diagnosed with the disease in 2013.
About Miraca Life Sciences
Serving more than 3,500 patients each day, Miraca Life Sciences is a leader in providing an academic-caliber pathology laboratory with diagnostic services in the fields of dermatology, gastroenterology, hematology and urology. Building upon our experience with health IT, we also offer accessible technology solutions to assist healthcare professionals as they work towards accordance with Meaningful Use initiatives.
Miraca Life Sciences, a wholly-owned subsidiary of Japan-based Miraca Holdings Inc., employs a talented team of leading pathologists, histologists, lab technicians, technology consultants, and other medical professionals — all driven to help provide the highest and most up-to-date levels of diagnostic quality, enhanced workflow and practice solutions possible. It is part of our commitment: not only to scientific excellence, but to patients and practices.