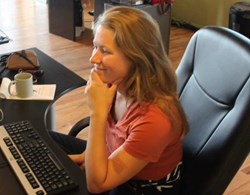 No matter what phase of business, we want our customers to experience high-level service from sales to delivery.
Chicago, IL (PRWEB) October 11, 2013
Promet Source, a leading technology agency specializing in interactive development and 24/7 support and maintenance, hired new industry leaders: Libby Smolik, Allan Chappell and Dana Immertreu. They have joined the team as Sales Manager, Solutions Architect and Front-End Developer (respectively) to answer to the double-digit revenue growth Promet has experienced annually since 2009.
"As we continue to monitor growth and expand our offerings, it is a priority to hire and retain talent who can deliver web and mobile applications of the highest caliber," said Andrew Kucharski, President & Founder of Promet Source. "Our new hires represent our brand in that they bring a track record of excellence and best practices. No matter what phase of business, we want our customers to experience high-level service from sales to delivery."
Libby Smolik will serve as Sales Manager which will enable Promet to accommodate the increased number of potential customers and work with more clients. Her extensive background includes working for CDW in the Small Business and Non-Profit divisions and Salsa Labs. She has a range of experience in sales and sales management for IT Solutions, cloud services, non-profit CRM tools and media space. "I look forward to representing Promet Source. In my role, I will spearhead potential solutions for prospective clients. Within the technology industry, it is a fundamental value to enlighten my audience regarding technological solutions that fit unique business needs," said Smolik.
Promet Source's newest Solutions Architect, Allan Chappell is a highly respected member of the Drupal and web development communities. A frequent speaker at industry events, Allan brings profound knowledge and skill regarding web development, custom module development, Continuous Integration, PHP development and quality assurance. He has developed applications for Fortune 500 companies including PepsiCo, Kimberly Clark and Arby's. "Our clients will benefit from Allan's rich experience in web development and expertise in design, code and maintenance for both simple and complex web applications. Promet looks forward to implementing his specialty in automated user interface testing using Selenium," said John Nollin, Promet's Director of Operations.
Dana Immertreu comes aboard as Promet's Lead Front-End Developer. A graduate of Chicago's prestigious university, University of Chicago, she brings a wealth of experience in graphic design, web design and theming - particularly within the higher ed industry. Within that industry, Dana created customized Drupal themes based on department graphic identities and architectures for new department websites. Dana is an expert in the utilization of Drupal functionality to simplify administration and integrating digital & print brand language. "My skill within user-experience and prototyping makes me a great fit for Promet's client," said Dana Immertreu.
Promet Source has welcomed new clients: businesses and organizations who have realized that their web & mobile applications need to work as a tool for efficiency and profitability. The industry standard is moving toward all organizations providing a customized digital experience (for employees and customers) through digital communication that makes the most of content, community and commerce. As the technological frontier expands, more and more companies need complex, highly-technical development. Promet Source continues to satisfy that demand with high-level solutions delivered by renowned industry experts. New clients have included the USDA, the Field Museum, 22nd Century Media and Sinai Health System.
"We value our clients as partners. Promet Source seeks to give our customers the utmost level of service and deliverables. In order to deliver sites and applications of high-value, it is our priority to hire and foster strong talent with diverse expertise and experience." – Andrew Kucharski, President & Founder of Promet Source
About Promet Source:
Founded in 2003, Promet Source is a leading interactive development agency that implements "open source" tools (specifically Drupal) to deliver high-value web and mobile application development & support. Promet offers a turn-key solution delivered by experts in the field: sprint 0 planning (Agile concept development), design, architecture, development and deployment. After deployment, Promet provides ongoing support & maintenance. Our team has deep technical expertise and are recognized as leaders within the Drupal community. Promet serves clients globally across multiple industries-specializing in government, higher education, non-profits, start-ups, healthcare and professional services. For more information, please visit our website: http://www.prometsource.com.
Contact:
Maggie Graham: Maggie(at)prometsource(dot)com