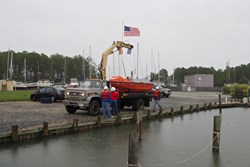 Gloucester, VA (PRWEB) October 09, 2013
Chesapeake Marine Training Institute released its November 2013 professional mariner training schedule, which includes courses ranging from preparation for licensed Captain's to upgrade to a Master level and elementary first aid and CPR.
Marine students can register online for the following November courses:
Nov. 4 STCW Basic Fire Prevention and Firefighting
Nov 4 STCW Basic Safety Training
Nov 4 Tankerman Person In Charge (Barge) Dangerous Liquids
Nov 6 STCW Personal Safety and Social Responsibilities
Nov 6 STCW Personal Survival Techniques
Nov 6 STCW Basic Safety Training (BST) without Firefighting
Nov 8 STCW Elementary First Aid and CPR
Nov 12 Upgrade, Master 100 GRT to Master 200 GRT
Nov 13 Radar Observer Recertification
Nov 15 Radar Observer Recertification
Nov 18 Medical Care Provider
Nov 19 Electronics Chart Display and Information Systems (ECDIS)
Nov 19 Radar Observer Recertification
Nov 21 Apprentice Mate (Steersman) of Uninspected Towing Vessels
Nov 25 Vessel Security Officer
Nov 25 Automatic Radar Plotting Aids (ARPA)
Register online for upcoming courses on campus.
ABOUT CHESAPEAKE MARINE TRAINING INSTITUTE: Established in 1992, Chesapeake Marine Training Institute (CMTI) – a service disabled, Vietnam era veteran owned business – provides professional marine educational services to military and civilian mariners. While its modern classrooms and outdoor training area is located on George Washington Memorial Highway near Gloucester Point in Hayes, CMTI proudly also offers on-site training and home study programs.
In 2002, Marine Log magazine called CMTI one of the top maritime educational, recruitment and training resources in the nation.
Its instructors are seasoned mariners, holding a current U.S. Coast Guard License as Master with a minimum of five years at sea experience. CMTI's staff also includes License Consultants trained by the Coast Guard's National Maritime Center as Mariner Credentialing Agents. These agents serve as experts to help each mariner sail smoothly through their licensing application process.
Learn more about Chesapeake Marine Training Institute at http://www.chesapeakemarineinst.com or call 800-642-CMTI.