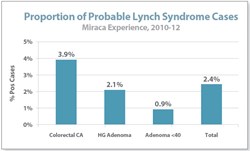 Irving, TX (PRWEB) October 15, 2013
Miraca Life Sciences (MLS), the leading pathology services provider that collaborates to make patients and practices better, is pleased to announce the results of a screening program implemented in 2010 which tests pre-cancerous polyps for DNA mismatch repair (MMR) abnormalities. Throughout this program, MLS leveraged its unique expertise and systematic approach to pathologic evaluations to ensure the highest quality, efficacious, and cost-effective program to improve the health of our patients and their families.
Lynch syndrome (LS), with the major cause of Hereditary Non-Polyposis Colorectal Cancer (HNPCC), is the most common hereditary cause of early-onset colorectal and endometrial cancers. This autosomal dominant disorder also leads to increased risk of cancers of the stomach, small bowel, biliary tract, kidneys, ureters, ovaries, brain, and pancreas. LS accounts for approximately 3.5% of colorectal cancers (CRC) (1 out of every 35 CRC patients), and, after surgical resection, these patients have a >30% risk for other cancers, both at the time of surgery and subsequently. Identification of LS patients and affected family members allows for increased cancer surveillance and hopefully reduced morbidity and mortality related to Lynch syndrome.
A LS diagnosis previously relied on clinical criteria and family history; neither of which is highly sensitive or specific, resulting in a large number of LS cases remaining undiagnosed.
James M. Gulizia, M.D., Ph.D. and Director of MLS' GI Quality Assurance Program, explains, "This program was initiated to not only test all newly diagnosed colorectal adenocarcinomas, but also high grade precancerous polyps and precancerous polyps in individuals less than 40 years of age. While other institutions have also adopted MMR screening programs for CRC, Miraca Life Sciences has taken a leadership role in screening these precancerous polyps which can help identify at-risk patients before cancer develops." In fact, the program at MLS has found that the detection rate among those with these pre-cancerous lesions is almost as high as for those who already have cancer.
The MLS MMR screening program, including MLS's evaluation of certain patients with precancerous polyps, identified 360 people (as of July 2013) with probable LS who would otherwise be unaware.
To read about research being done at MLS, please visit http://www.MiracaLifeSciences.com/Publications.
###
About Miraca Life Sciences
Serving more than 3,500 patients each day, Miraca Life Sciences is a leader in providing an academic-caliber pathology laboratory with diagnostic services in the fields of dermatology, gastroenterology, hematology and urology. Building upon our experience with health IT, we also offer accessible technology solutions to assist healthcare professionals as they work towards accordance with Meaningful Use initiatives.
Miraca Life Sciences, a wholly-owned subsidiary of Japan-based Miraca Holdings Inc., employs a talented team of leading pathologists, histologists, lab technicians, technology consultants, and other medical professionals — all driven to help provide the highest and most up-to-date levels of diagnostic quality, enhanced workflow and practice solutions possible. It is part of our commitment: not only to scientific excellence, but to patients and practices.