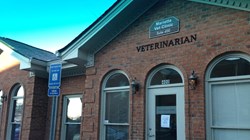 Everyone should limit the amount of candy consumed for their teeth and overall health
Marietta, GA (PRWEB) October 15, 2013
The Marietta cosmetic dentist and Marietta veterinarian plan to celebrate the holiday with treats and tips on October 31st from 9:00am to 5:00pm, normal business hours.
October is typically associated with Halloween, the festivities and most importantly the "candies." Americans purchase treats and costumes to celebrate the highly anticipated holiday, so the doctors have decided to help others celebrate it a safer, as festivities unfortunately can have a downside. Drs. Kimmerling and Peckich offer healthy treats and suggestions for a safer and prosperous event.
"Everyone should limit the amount of candy consumed for their teeth and overall health," says Kirk Kimmerling DDS. Eating healthier treats and in moderation lessens the chances of tooth decay, sugar overload and weight gain. The Marietta cosmetic dentist's staff plans to give out healthy snacks, as they dress up each year for the event. It is a great opportunity for people interested in the dental office to get acquainted.
Marietta Vet Clinic and Marietta veterinarian, Julian Peckich DVM will also be participating in the Association's event by promoting a safe Halloween for the pets. "Many animals swallow candy that is toxic to pets, and swallow seasonal decorations that can be deadly. The animals clinic's goal is to avoid an unnecessary pet accidents by offering safety tips and a snack for the dogs for stopping," says Dr. Peckich. Treats for humans, such as walnuts and chocolate can be highly poisonous to dogs, surprising to many pet owners. Many pets will swallow festive decorations requiring surgical removal and unplanned fees.
The Halloween event is to help celebrate Halloween with Marietta neighbors, helping to keep children and pets healthier and safer.
Parents should provide children with costumes that do not restrict breathing, sight or become increasingly hot and over-whelm a child. The same rule applies for pets. Both dogs and cats should always wear identification tags and be micro-chipped, as many escape as the door opens and closes on Halloween.
The event is expected to be full of fun and excitement this year.
Kirk Kimmerling DDS is a Marietta cosmetic dentist, Marietta emergency dentist and a Marietta family dentist in GA, near Kennesaw, Dallas, Powder Springs, and Austell. He is dedicated to helping people achieve the smile they desire offering solutions and alternatives for optimum dental health. The Marietta dentist is a full service dental practice providing everything from teeth cleanings, teeth whitening, dental emergencies, Marietta root canals, crowns, bridges, Marietta dental implants, dental veneers and more. Should you need an emergency dentist Marietta, the dental office welcomes you. Look for their New Patient $100 Coupon.
Marietta Vet Clinic and Marietta veterinarian, Julian Peckich DVM is a pet clinic, dog clinic, and cat clinic providing affordable veterinary services such as puppy vaccinations, kitten vaccinations, dog vaccinations, cat vaccinations, general wellness exams, spay and neuter clinic, pet surgery and sick relief. The Marietta veterinarian offers veterinary services at the clinic and as a mobile animal clinic. Julian Peckich DMV is a cat veterinarian and a dog veterinarian. It would be the great pleasure to welcome new pets.