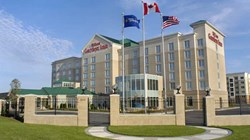 "For those working within a tight budget or have limited time to celebrate, the Hilton Garden Inn Toronto Vaughan can bring a sense of ease and help you with all your party planning needs."
Toronto, ON (PRWEB) October 09, 2013
Vaughan hotel, Toronto Hilton Garden Inn is gearing up for the fast approaching holiday season by announcing two new exciting features: new Precor™ fitness equipment and an end of year holiday party promotion package.
"The hotel has recognized the endless options, which can often be confusing, when considering planning an end-of-year staff party," said Alexis Edgar, Regional Director of Sales & Marketing. "For those working within a tight budget or have limited time to celebrate, the Hilton Garden Inn Toronto Vaughan can bring a sense of ease and help you with all your party planning needs," added Edgar.
The hotel's banquet hall in Vaughan, Ontario is offering a package deal when purchased before October 31, 2013. With a minimum of 50 guests, each person is priced starting from $22.99 and includes taxes, gratuity, chair covers and the opportunity to receive double Hilton Honours Meeting Planner Points. The price increases to $27.99 per person all inclusive after November 1, 2013. Lavish, yet affordable, Festive Breakfast Buffet, Luncheon and Dinner parties are also available at equally reasonable prices. The Jingle Bells Breakfast Buffet is an elegant while modest option while celebrating the end of the year and a job well done. While still presenting a vast array of delicious cuisine, it presents an alternative category in order to keep costs down, employee productivity and appreciation up.
The holiday season is generally a high calorie time of year. Parties abound, revellers imbibe and there are mountains of delicious food as far as the eye can see. Thanksgiving is right around the corner, which marks the start of the battle-of-the-bulge season. Guests of the Vaughan hotel can now get a start on their New Year's resolutions by taking advantage of the new fitness equipment Hilton Garden Inn Toronto Vaughan has to offer.
This October, just in time to start working off those Thanksgiving and holiday parties, the Hilton Garden Inn Toronto Vaughan unveils its brand new fitness centre, featuring award winning Precor™ equipment.
The suite hotel in Vaughan, Ontario new fitness facilities presents an open concept and well-designed space, offering ample room for individual and group workouts and stretching. Beautifully appointed and impeccably maintained, the facilities feature the latest fitness equipment courtesy of Precor™, and include gratis towels and water. Each individual cardio machine comes with a personal TV screen, enabling the user to choose their entertainment. The machines also feature the single-button QuickStart™ feature, making it easy to tailor the consumer's intensity, course and duration.
Keeping the holiday bulge at bay during this time can often prove challenging. The Hilton Toronto Garden Inn provides a workout space and options in order to keep fit, while enjoying the holiday season. For more information, please visit the Hilton Garden Inn Toronto Vaughan website or contact the hotel by phone 905-660-4700.
About the Hilton Garden Inn Toronto Vaughan
Located in the heart of Vaughan, Ontario, the Hilton Garden Inn Toronto Vaughan hotel puts you at the center of the action. Only 30 minutes from downtown Toronto, at the intersection of Highway 400 and Highway 407, you can really make the most of your time in the area. Keep on top of work with complimentary Wi-Fi and a 24-hour business center. Unwind with a relaxing swim in the indoor pool or work out in the fully-equipped fitness center. Start your day in style with a cooked-to-order breakfast from the Great North American Grill restaurant which also serves delicious dinners (AND ROOM SERVICE). Relax over a drink in the bar in the lobby or pick-up a snack from the 24-hour Pavilion Pantry® convenience mart. Over 9,000 sq. ft. of function space makes this hotel a smart choice for your North Toronto meeting or Vaughan wedding. For reservations or more information visit http://hiltongardeninn3.hilton.com/en/hotels/ontario/hilton-garden-inn-toronto-vaughan-YYZVAGI/index.html.