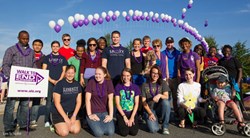 Lynchburg, VA (PRWEB) October 09, 2013
More than 30 Liberty University students partnered with the Lynchburg (VA) Walk to End Alzheimer's during their Fall Break on Saturday, Oct. 5, to raise awareness and funds for Alzheimer's disease research, support, and care.
Liberty provided the majority of the volunteers. They served in various capacities, including setup and teardown of event tents, tables, and stations. They also manned food stations and greeted guests.
"Volunteers make the walk happen and we could not put on such a great fundraising and awareness event without them," said Jane Massie, development manager of Alzheimer's Association Central & Western Virginia.
Walk to End Alzheimer's is the nation's largest event to support the fight against Alzheimer's disease, the sixth-leading cause of death in the U.S. Participants walked approximately 2 miles and collected donations for the Alzheimer's Association, the largest nonprofit funding resource for research on Alzheimer's.
Freshman Brittney Flucher, a nursing major, said she decided to volunteer after spending time with an Alzheimer's patient at a nursing home last summer.
"This event makes more people aware of (Alzheimer's)," she said. "A lot of people don't really know exactly what it is, and there's not really a cure for it, so it really helps to educate people and (help them know) the signs of it."
Liberty encourages students to get involved in the community and spread Christ's love to their neighbors through volunteer opportunities that go above and beyond their required Christian/Community Service hours. Students are also able to participate in additional service projects through the university's Community Care Initiative, which launched last year and is already generating a lot of involvement.
"When the students get involved in the community it shows that Liberty University is not just 'in' the community but it is a member 'of' the community," said Troy Matthews, associate director of Liberty's Center for Christian/Community Service. "Giving back makes a connection with people and demonstrates in a tangible way that we care. Being a Champion for Christ involves more than just gaining an education and becoming a success in our occupation of choice, it means living as Christ would have us live, and the Bible is clear that He came to serve and that we should love our neighbor as ourselves."
About Liberty University
Liberty University, founded in 1971, is the largest private, nonprofit university in the nation, the largest university in Virginia, and the largest Christian university in the world. More than 100,000 students attend classes on its 7,000-acre residential campus and study in its thriving online education program.