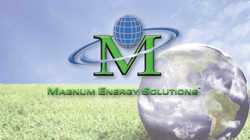 The cheapest energy is the energy you don't use in the first place.
Hudson, OH (PRWEB) October 10, 2013
Magnum Energy Solutions, a manufacturer of wireless, self-powered energy management solutions, continues to expand their sales channels by recently executing a partnership with Florida based PDI Communications. This association demonstrates an industry trend of telecommunications firms partnering with companies to offer existing customers cost-effective solutions to reduce energy consumption.
Established in 1986, PDI Communications is a widely recognized leader in the reception, control and transmission of DIRECTV. Cable TV, Satellite, Private Cable, Telephone and ISP operators in both the US and around the world are currently using PDI's award winning products. As a Master System Operator (MSO) for 2,600 properties under contract, primarily hotels and residential complexes, PDI is now able to provide clients with smart building solutions.
"This is a great example of how PDI integrates multiple disciplines to provide the best solutions for our customers," said Len Edelman, Executive VP at PDI Communications. "In this case, we are already a trusted provider for DIRECTV services to hotels and MDUs, building automation and controls are a natural extension to these core services."
The team at Magnum Energy Solutions is dedicated to bringing innovative, yet cost effective solutions to building owners, developers and facility managers. With core verticals in hospitality, colleges and universities, retail, restaurants as well as commercial and residential, their growth indicates a positive move towards energy focused building retrofits. This signal could not come at a better time.
Energy demand is on the rise, yet new generation remains stagnant. Although advances in renewable energy continue, energy efficiency remains the most cost effective way to reduce our reliance on fossil fuels. A focus on energy efficiency is more than just implementing "green" efforts or touting sustainability. The productivity of our economy is directly tied to greater levels of energy efficiency, rather than continued mining and drilling for new resources.
"We are seeing growing demand for wireless energy management when it comes to building retrofits," said Mike Giorgi, CEO of Magnum Energy Solutions. "The fact remains that much of the opportunity within the wireless sector remains largely untouched and we need partners like PDI to help us bring our mission to the masses."
Magnum Energy Solutions is a pioneer in the development and deployment of innovative energy management solutions for both commercial and residential applications and to the OEM market. Our products and secure software platform allow for either turnkey or stand-alone building retrofits, as well as the ability to interface with existing building automation systems. With no wires to run and no batteries to replace, our technology is secure, scalable, flexible, easy to install and even easier to use. A dedicated team in Hudson Ohio and a nationwide network of partners, resellers and certified installers deliver our expertise in wireless solutions for monitoring, configuring and controlling lighting, HVAC and plug loads.