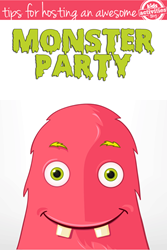 A monster party is a perfect theme for this time of the year.
Dallas, Texas (PRWEB) October 16, 2013
A monster party is a perfect theme for a get together this time of the year. Moms have compiled a list of their easy yet awesome monster party tips and a gallery of monster coloring pages on Kids Activities Blog.
If one is planning a birthday party, a Halloween party, or just looking for a reason to bring the kids together, the monster party theme is a great way to do it. The tips feature non-scary, cute monsters and best of all, these things can be easily done at home.
Making a monster themed cake is made so simple with these easy instructions from a seasoned Mom featured on Kids Activities Blog. Making monster themed food is both easy and healthy. Make yummy monster sandwiches, monster "fingers," monster "teeth," and monster "eyeballs" will delight the younger as well as older guests.
Decoration ideas and a set of printables can be found and downloaded with the link provided on Kids Activities Blog. Fun activities include party classics such as pin the eye on the monster and making silly monster play dough creations.
Other ideas include letting the kids have a blast with the silly monster coloring pages. The pages feature a shaggy headed monster with striped legs, a dew drop shaped monster with glasses and a bow tie, a ghostly fellow with a painter's hat and work boots, and lastly, a one-eyed monster ready for bed with a hot chocolate.
Color the pages with anything but markers and crayons. Use colored glue or paper strips to fill in the pages. Another fun idea is laminating the pages and using them as place mats for the party table.
For detailed instructions and to get additional fun monster ideas, check out Kids Activities Blog this week. Come get inspired to let the kids have a blast playing silly monster games this fall.
About Kids Activities Blog
Kids Activities Blog is a website created by two moms (who collectively have 9 children), Rachel Miller and Holly Homer from June Cleaver Nirvana. It is their daily goal to inspire parents and teachers to play with kids. This interactive website publishes simple things to do with kids twice a day. Kids Activities Blog is a great tool for moms and teachers to find kid-friendly activities that create memories and sneak learning into the fun.