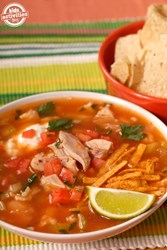 The crock pot makes quick delicious family dinners.
Dallas, Texas (PRWEB) October 12, 2013
Need a quick family dinner or a snack idea? An easy crock pot recipe and a simple peanut butter smoothie recipe have been published on Kids Activities Blog.
The easy chicken tortilla soup crock pot recipe is delicious and easy to set up. The ingredients can be set up in advance in the crock pot. The ingredient list includes chicken breasts, chicken broth, can of tomatoes, salsa, cumin, garlic cloves, olive oil, and a bunch of fresh cilantro.
Let the ingredients simmer in the pot according to the instructions provided on Kids Activities Blog. Once the chicken is beginning to fall apart, take it out and dice it. Put it back inside the pot. The soup can be served with tortilla strips, Monterrey Jack cheese, advocado, black olives, and green onions if desired.
Delicious and healthy snacks do not require a lot of ingredients or time. The peanut butter smoothy is a perfect drink for after school snack time.
By the way, it is healthy, too. It is so simple to make that it does only require two ingredients. Blend about 3 cups of frozen soy milk with 3/4 cup of peanut butter and ready is the perfect after school drink.
For detailed instructions and to get additional family food tips, check out Kids Activities Blog this week. Come get inspired to serve simple healthy food this fall that the whole family will enjoy.
About Kids Activities Blog
Kids Activities Blog is a website created by two moms (who collectively have 9 children), Rachel Miller and Holly Homer from June Cleaver Nirvana. It is their daily goal to inspire parents and teachers to play with kids. This interactive website publishes simple things to do with kids twice a day. Kids Activities Blog is a great tool for moms and teachers to find kid-friendly activities that create memories and sneak learning into the fun.