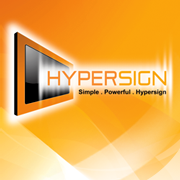 InfoComm Middle East Africa 2013 is a wonderful platform to be able to debut Hypersign internationally. We believe that we have innovative digital signage and education software solutions to offer worldwide - Neil Willis CEO
Greenville/Spartanburg (PRWEB) October 16, 2013
Hypersign, the simple but powerful digital signage software, will be showcasing their unique and intuitive software products at this year's InfoComm Middle East Africa. With focus on education, medical care, and air travel; Hypersign intends to whet consumer's appetites for digital signage.
Located at booth TA-A43 in the Sheikh Saeed Hall, Hypersign will be exhibiting a few of its many sensational features. Presented on mounted displays and Samsung Galaxy Tabs, Hypersign will offer live demonstrations of Alert, KidGopher, and the award winning digital signage software itself. Witness how Hypersign could be utilized for schools, hospitals, and even airports.
CEO of Hypersign, Neil Willis says, "InfoComm Middle East Africa 2013 is a wonderful platform to be able to debut Hypersign internationally. We believe that we have innovative digital signage and education software solutions to offer worldwide."
InfoComm Middle East Africa 2013 is an exhibition for corporations to discover new AV technology that could further their businesses. InfoComm will also be offering seminars to those wishing to learn more in depth information on marketing perspectives and technology updates specific to industry practices. InfoComm is located in the Dubai World Trade Center and runs October 20th-24th. For more information on InfoComm Middle East Africa 2013, please visit their website http://www.infocomm-mea.com.
Hypersign Software is an award winning software product development company focusing on building products that improves the lives of people. The Hypersign product is known for it's incredibly intuitive interface making it the perfect digital signage solution for education (K12 and higher Ed) and healthcare. One of Hypersign's premier developments is the KidGopher product. KidGopher is known for its ability to greatly improve security and efficiency making it the best child pickup system for K12 Education. KidGopher, and other Hypersign software products are available to purchase from AV Integrators throughout the US and Canada.
http://www.Hypersign.net