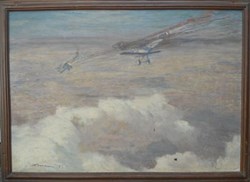 "Lt. Walters' rocket victory reset everybody's air power strategy and tactics."
(PRWEB) October 15, 2013
The battle of the Somme erupted on July 1, 1916, but even with 60,000 casualties on that first horrific day, only far sighted military leaders recognized that above the muddy, bloody stalemate on the ground the war in the sky had moved from a ballet of gentlemen daredevils to deadly aerial combat using constantly improving machinery, weaponry, and tactics.
In 1914, fighter plane armament was a carbine in the cockpit. Then, in a matter of months, weaponry advanced to machine guns firing through a rotating propeller—and even wing mounted rockets.
And so this sets up one of the great forgotten stories of WW I— a British pilot scores the very first an air-to-air missile victory but his accomplishment—and name---is then lost in the chaos of battle. This historic event was captured on canvass by Lt.Henri Farre, Observateur-Bombardier and Official French Artist of the Armee de l'Air, but the painting disappeared for almost 100 years and was just recently discovered on the wall of a modest house in Rhode Island. USA.
This dramatic 1917 aerial engagement, more Farre material including a signed folio of color prints of his air war paintings, along with a selection of military antiques, will be up for sale in an Internet auction at http://www.AntiquesYes.com on November 16, 2013.
The wing mounted rocket idea came from Yves Le Prieur who, in 1916 strapped a loaded airplane wing onto a Pic-Pic roadster and then sped past a group of generals at 80 mph, firing as he went. Farre learned of the epic air battle second hand, and wrongly identified the pilot as a "Capt. Summers." Fortunately the League of WW I Aviation Historians has solved the mystery, and here is the real story:
"...On September 15, 1916 - the opening day of the Third Phase of the massive Battle of the Somme - General Trenchard ( in command of the RFC) asked for volunteers to attack observation balloons. Capt. Albert Ball, 2Lt. A M Walters, 2Lt Euan Gilchrist, and Capt. A.S.M. Summers all took off in Nieuports armed with LePrieur Rockets.
Ball and Walters found their balloon targets hauled down so instead attacked some German planes. Ball missed with his rockets but shot down an enemy fighter with his machine-gun. His wingman Walters fired his rockets at one of the LVG two-seaters and saw a rocket hit the LVG in the fuselage, setting it aflame. The LVG fell at Bapaume and this incident may well be the first air-to-air rocket victory against a heavier than air target.
Meanwhile, Gilchrist and Capt. A S M Summers destroyed their balloons but Summers was sadly shot down by anti-aircraft fire. So, it was not Summers but Walters who destroyed an enemy airplane with LePrieur rockets. Farré somehow heard a garbled account of this action and mixed up the names of the combatants..."
Lt. Walters' historic exploit was to languished invisible for a century because the painting went to the USA in 1918 when the French government sent Farre and his wartime artwork on a national tour. The painting was purchased in New York during the first exhibit and has stayed with that family for three generations.
AntiquesYes.com
AntiquesYes.com presents on line auctions exclusively and is designed by professional antiques dealers for serious antiques buyers, sellers, and collectors. Everything we present is selected for quality and authenticity and everything is 100% guaranteed as described.
AntiquesYes.com serves the needs of both buyers and sellers with special auction features such as bidder anonymity, adult bidding increments and extended bidding time which eliminates sniping and puts bidders head-to-head before the hammer drops.
For more stories on Henri Farre and the auction sale of this important painting, visit http://www.AntiquesYes.com. or write hww(at)webwilson(dot)com.