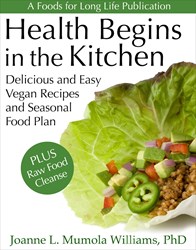 Health, excellent or ill, is passed to our children not just through our genes but primarily through our recipes.
Sebastopol, California (PRWEB) October 11, 2013
Introducing Health Begins in The Kitchen: Delicious and Easy Vegan Recipes and Seasonal Food Plan, a new eBook by Dr. Joanne Mumola Williams, which helps people (even those with "bad" family genes who feel "destined" for poor health) achieve remarkable health through eating. With 160 delicious plant-rich recipes (most are gluten free) and 145 beautiful photographs, readers will be inspired to get into their kitchens and take control of their health.
Health Begins in the Kitchen demonstrates how to easily incorporate more fruits, vegetables, whole grains, nuts and seeds into a family's diet. Having been a full time working mom for many years, Dr. Williams understands the challenge of getting a healthy meal on the table fast so it was important that the book was easy to follow with uncomplicated recipes along with extensive photographs of the finished product.
Dr. Williams did not begin her career as a Ph. D. in holistic nutrition. After losing her dearest friend to pancreatic cancer, she was inspired to go back to school and change professions. Upon obtaining her Ph.D., she left a very successful engineering career that included 27 years at IBM and nine years as the President and CEO of Ampro Computers, Inc. With her new degree under her belt, Dr. Williams began spreading the message on her blog, Foods for Long Life, that people can prevent and fight most diseases through eating delicious food and doing an occasional cleanse with raw food diet recipes.
Dr. Williams strongly believes that people need to tailor a healthy diet that fits with ones tastes and lifestyle. For example, Dr. Williams herself follows a mostly vegan diet, avoiding red meat and dairy, while still eating fish. She recommends a Seasonally Raw Food Plan, a balanced combination of raw and cooked plant-based meals, which she writes about in her book.
"I truly believe that health, excellent or ill, is not inherited from our genes, but primarily through our recipes," said holistic nutrition author Dr. Joanne Williams. "Many people feel it's their "destiny" to be stricken with illnesses where they have a family history, however, altering diet can significantly impact the risks for these diseases. In fact, countless studies link poor diet to diseases such as type 2 diabetes, heart disease, obesity and cancer," she added.
In addition to launching Health Begins in the Kitchen, Dr. Williams is the creator of the blog, FoodsForLongLife.com where she chronicles some of her favorite recipes and daily life on her organic vineyard in Sonoma county where she and her husband grow Pinot Noir grapes and make wine. Health Begins in The Kitchen sells for $14.99 and is available on iTunes for iPads, iPhones, or the iPod Touch and on Amazon for Kindle. Dr. Williams can be found on Facebook and Pinterest.