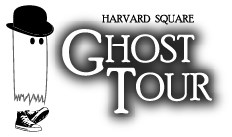 Cambridge, MA (PRWEB) October 10, 2013
Cambridge Historical Tours is Harvard Square's original touring and attraction company featuring professional storytellers. Giving local residents and visitors to the area a chance to explore the darker side of one of the nation's oldest communities with their Harvard Square Ghost Tour. Following a lantern-wielding guide, tours introduce guests to the best ghost stories that Harvard has to offer. Gruesome tales of murder and mayhem, eerie accounts of pranks gone horribly wrong, and chats with Harvard professors from beyond the grave – get ready for a scare!
Harvard locals always have a new secret to spill about the happenings in Harvard Square… grim whispers about everything that goes bump in the night – but don't be startled. Although the entertaining stories may shock you, the masterful guides are known to throw in some jokes to keep it fun. Visitors of all ages are welcome on this mysterious walking tour, as long as they're brave enough to learn the truth about the shadowy history hiding throughout the area.
"By the time it's over, you'll probably be more scared of the living than the dead," says Company Manager Chris Schultz. "The tour is a chilling anthology of macabre and frightening stories along with some of the most amusing encounters with the supernatural that you are likely to hear about anywhere."
Gather by the Visitor Information kiosk at the Harvard Square T Stop, outside the Harvard Coop – 1400 Massachusetts Ave, Cambridge, MA.
Four 90 minute tours weekly through 11/1: Thursday-Sunday at 7:30 p.m.
Tickets available online at http://www.cambridgehistoricaltours.org.
Reservations are strongly recommended.
Adults: $15
Students/Seniors: $12
Youth (7-13): $7
Kids 6 & Under: Free