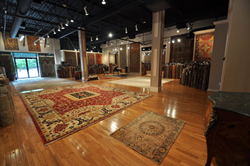 My father taught me that a satisfied customer is your greatest advertiser.
Atlanta, GA (PRWEB) October 17, 2013
Tribal rugs -- handmade area rugs from various tribal regions around the world -- are all the rage in designer circles these days, and Surena Rugs in Atlanta, GA is a Mecca for interior designers bent on acquiring these rarities for their wealthy clients. Surena has been buying, selling, appraising, restoring and cleaning handmade rugs for about three decades, and has one of the most arresting collections of antique and tribal rugs in the Eastern U.S.
Entering Surena's spacious showroom is an eye-popping experience, with its striking array of beautiful carpets in a wide variety of styles and sizes. "We're very proud of our extensive collection," says Moe Rabbani, Surena's owner and founder, "especially our antique and tribal rugs, which are painstakingly acquired."
Antique, semi-antique and tribal traditional rugs are the specialty at Surena Rugs. "We've had people come from as far away as Nashville and Phoenix to see our collection. Some of these pieces date back to the 1800s," says Mr. Robbani.
Not only does Surena Rugs take pride in its remarkable collections, but also in its level of customer service and satisfaction. "My father taught me that a satisfied customer is your greatest advertiser," says Mr. Rabbani. "This and our unwavering commitment to excellence is what has kept us thriving for the last three decades."
Rug shoppers from all over the country can now view Surena Rugs' timeless treasures online at their newly revamped website.