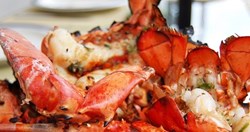 (PRWEB) October 10, 2013
The only thing light about Get Maine Lobster's healthy, Paleo diet seafood recipe is fat, calories and cholesterol. Heavy in lean protein, nutrients and flavor, the new recipe for Paleo Pan-seared Lobster Tail with Roasted Squash and Kale will appeal to the taste buds while remaining friendly on the waist.
Ingredients for this nutritious, Paleo diet seafood recipe include two Maine lobster tails per serving; one seeded, half-inch cut squash per serving; one-and-a-half tablespoons of coconut oil; three large handfuls of kale, washed and chopped; one tablespoon of lemon juice, one-quarter tablespoon of red pepper flakes, one sprig of fresh thyme, one smashed garlic clove per serving, olive oil, and salt and pepper to taste.
First, preheat the oven to 350 degrees. Slice the squash into rounds and remove the center seeds. Toss the squash into a bowl with the coconut oil and season with salt and pepper to taste. Place the squash onto a baking sheet and place it into the oven for 15 minutes or until softened.
Next, add some olive oil into a large sauté pan over medium heat. Add the seasoned Maine lobster tails flesh side down for three minutes until the meat develops a nice sear. Then, add the crushed garlic and thyme to the pan and baste the shell with the hot olive oil until it is red. Remove the lobster tails from the pan to let them rest. The lobster should be warm when served, but not hot.
Remove the garlic and thyme from the oil and then toss in the chopped kale and season with the red pepper flakes and salt. Once the kale is wilted, add in the lemon juice. Finally, remove the squash from the oven and plate with sautéed kale and the lobster tail.
Those who follow the Paleo diet and are looking to try out this delicious Paleo diet seafood recipe are in luck as Maine lobster tails are now on special. For only $129.00, a savings of $91.00, GetMaineLobster.com will deliver 12 four- to five-ounce Maine lobster tails fresh from dock to doorstep. Shipping is included, and the lobster tails will arrive on Wednesdays, Thursdays, Fridays and Saturdays via two-day air.
Browse Get Maine Lobster's wide range of seafood offerings, access other Paleo diet seafood recipes or view current specials by visiting GetMaineLobster.com or call (866) 562-.4817. Stay updated and Like us on Facebook or follow us on Twitter.
About GetMaineLobster.com
GetMaineLobster.com, a division of Black Point Seafood and Black Point Gourmet, hand-selects the finest Maine lobster, seafood and beef products for convenient distribution throughout the United States. Their passion is to make fresh, quality seafood readily available to customers across the country, which is why they buy from only the most trusted, well-established suppliers to ensure that they receive the finest products available.
GetMaineLobster.com was selected out of the more than four million small American businesses served by Chase bank to represent its new Platinum Business Checking product for its 2013 national advertising campaign.