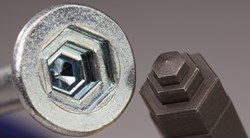 We are proud to have received this award and to have been recognized for this revolutionary engineering achievement in the fastener industry. Outlaw Screws will relieve much of the hassle and issues associated with screws of the past.
Charlotte, NC (PRWEB) October 11, 2013
Charlotte based fastener design and distribution company, Outlaw Fasteners, is a recipient of a 2013 Pro Tool Innovation Award. This recognition comes less than two-weeks after Outlaw introduced their new screw product on Kickstarter. The new screw design is powered by the UniGrip Drive System and signifies the biggest innovation in screw and drive technology in more than 80 years.
The revolutionary design of The World's Best Deck Screw virtually eliminates many of the existing problems with other screws currently on the market. The tiered-hexagonal screw head shape features up to 18 points of contact with the UniGrip bit – 14 more points than a traditional Philips screw. The numerous points of contact create the highest torque to driver ratio of any screw in the world and virtually eliminate "camout" and stripping.
The World's Best Deck Screw only requires the use of a single bit for every size and type of screw Outlaw Fasteners plans to make. The single bit will work on screw sizes from 5/64" to ½" in diameter, representing a significant advancement in the fastener industry.
Outlaw Fasteners launched a Kickstarter campaign on October 1st in order to utilize crowdsourced funding to take the screw from prototype through production. The Kickstarter campaign will run until October 30th, with the goal of raising $100,000. Within the first week of the campaign, Outlaw has already accumulated more than 50% of its backing goal, making it the most funded Kickstarter project ever in Charlotte.
"The crowdsourced community has shown an immense amount of support. We look forward to hitting our funding goal thanks to the help of many hardware and innovation enthusiasts," said Ron Elmore.
To back Outlaw on Kickstarter, please visit the following link: http://bit.ly/outlawscrews.
Outlaw™ and The World's Best Deck Screw™ are trademarks of Outlaw Fasteners. All rights reserved.
###
About Outlaw Fasteners
Outlaw Fasteners was founded in Charlotte, NC in 2013. Outlaw Fasteners is the maker of "The World's Best Deck Screw," powered by the UniGrip Drive System. For additional information, visit http://www.outlawfasteners.com.
About UniGrip Drives
Consolidated Fasteners, Inc. is a fastener design and licensing company, which owns multiple patents related to the UniGrip Drive System. For additional information, visit http://www.unigripdrives.com.
About Pro Tool Reviews
Pro Tool Reviews is an online magazine written by electricians, plumbers, carpenters, framers, general contractors, etc. that provides professional tool reviews. The professional tool reviews are written by professionals, for professionals. For additional information, please visit http://www.protoolreviews.com.