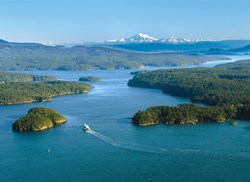 We are gearing up for a busy 2014. Spring cruises are already selling out and we look forward to working with new and existing valued travel partners to help us reach even more guests.- Timothy Beebe, Vice President, American Cruise Lines
Guilford, CT (PRWEB) October 10, 2013
American Cruise Lines (http://www.americancruiselines.com), the largest U.S. cruise company, officially announced today its 2014 cruise schedule, which includes over 35 unique itineraries. With advance bookings already ahead of the previous year, the line is preparing for an exciting year ahead, with new itineraries and plans to operate more cruises than it ever has before.
In the American Heartland, American Cruise Lines has added a new itinerary on the mighty Mississippi River. New for 2014, the line's authentic paddlewheeler Queen of the Mississippi will be operating new St. Louis to New Orleans cruises. This new itinerary allows guests to experience a greater portion of the Mississippi River, by sailing through six states, in only eight days. The new cruises are being offered exclusively by American Cruise Lines.
Furthermore, due to popularity and demand, American Cruise Lines has added eight more sailings to next year's Puget Sound & San Juan Islands schedule. Newly introduced this year, the eight-day roundtrip cruise from Seattle, explores the hundreds of islands nestled between Canada's Vancouver Island and the U.S. mainland. Guests enjoy breathtaking views of a diverse natural wonderland and experience the region's culture with guided tours to historical sites and museums. 2014 sailings are offered March through November.
"We are gearing up for a busy 2014," said Timothy Beebe, Vice President of American Cruise Lines. "Spring cruises are already selling out and we look forward to working with new and existing valued travel partners to help us reach even more guests. We thank them for being a major factor in our growth and success."
American Cruise Lines will also be announcing a robust 2014 theme cruise and entertainment schedule in the coming weeks. Please stay tuned for more details.
About American Cruise Lines:
American Cruise Lines, the largest U.S. cruise company, operates the newest fleet of riverboats and small cruise ships on more than 35 itineraries around the country. Long established and deeply experienced in cruise travel, American Cruise Lines has most recently received world-wide recognition as the first to revive paddlewheel river cruising in America. The line is known for working closely with guests before, during, and after a cruise to create a highly personalized cruise experience. To learn more about American Cruise Lines, visit http://www.americancruiselines.com or call 800-814-6880. Find them on Facebook at facebook.com/americancruiselines or follow them on Twitter at twitter.com/american_cruise.
###