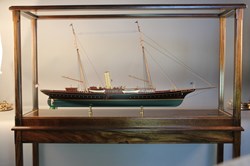 Boston, Massachusetts (PRWEB) October 10, 2013
In 1897, J.P. Morgan became Commodore of the venerable New York Yacht Club. His palatial steam yacht "Corsair" became "Flagship" of the N.Y.Y.C.
Fly J.P. Morgan's Flags
Morgan had this special set of fine silk dress flags made to adorn his beloved yacht and display his great pride in becoming Commodore.
The set includes a 71" x 47" Commodore's flag, a 153" x 9 1/2' Yachting Ensign and a New York Yacht Club burgee measuring 48 1/2" x 70"
These flags would have flown for the America's Cup races, Morgan's lavish on-board galas and meetings with captains of industry. The flags are estimated to bring 15,000 to 30,000 each.
The Sale is an historic event.
The auction includes "The Flagship China" from Corsair. Fine dinnerware and serving pieces adorned with N.Y.Y.C. burgee, Commodore's flag and "Flagship" on banner.
Hang J.P. Morgan's Art on Your Wall
A rare dutch painting given by Commodore Morgan as as N.Y.Y.C. race prize in 1897 is estimated at 40,000 - 60,000
Drink J.P. Morgan's Cognac
A 1795 cognac labeled "Ne Plus Ultra" and bottles of Madeira from J.P. Morgan's wine cellar have been consigned by a direct blood descendent.
Photos and films taken on board Corsair IV including the Galapagos Islands and Mediterranean will be of interest.
The auction will include Morgan items plus other nautical antiques, ship models as well as the contents of Boston's famed Pier 4 Restaurant and owner Anthony Athanas' private collection.