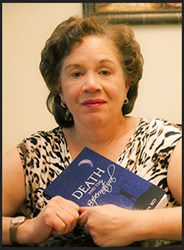 In response to the question, what made you write this book, Dr. White answered, 'An itch made me write Death and the Supernatural.'
(PRWEB) October 11, 2013
Dr. Ruth C. White opened her announcement with these words; "Did you ever have a dream that you were flying? That you floated up from your bed and flew out your window to the outside summer breeze. Floating over your back yard you could spot things that you knew had been placed there that very day."
In response to the question, what made you write this book, Dr. White answered, "An itch made me write Death and the Supernatural. Like a mental irritation, something that had been bothering me for as long as I can remember.
Why is it that my race adopted the religion of the people who enslaved them? I know it's been asked before but no one has ever given me an answer. Instead of discussing it they said a trite little statement that dismissed any further discussion and made me feel bad for asking."
"Death and the Supernatural" was published with CreateSpace Independent Publishing Platform. It's a story about a lady zoologist, Dr. Rosalie Taylor, whose spirit, under certain circumstances, could leave her body and go flying off into the night sky. A supernatural being, Massassi, came to console Rosalie when her husband unexpectedly died. Massassi accidently dislodged the lock that confined Rosalie's spirit to her body. Flying off into the night was a distraction that Rosalie craved and a secret she kept. While she made funeral arrangements, comforted her college-aged children, and accommodated her dysfunctional visiting in-laws, she plotted how she could sneak away for her nightly escapes.