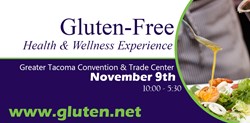 Enjoy. Learn. Taste. Living a Healthy, Balanced Gluten-Free Life!
Auburn, WA (PRWEB) October 11, 2013
Are you ready for the biggest gluten-free event in Washington State? The Gluten Intolerance Group's annual event takes place this year at the Greater Tacoma Convention and Trade Center on November 9th, just weeks before Thanksgiving. This is perfect timing to learn from food demonstrations of sweet potato pie, sandwich bread for stuffing, and pumpkin cranberry bars. Among the great line-up of food demonstrators sharing their delicious recipes and techniques is Shauna Ahern, author of the popular blog "Gluten-Free Girl and the Chef." The sandwich bread recipe she will be sharing is from her latest cookbook "Gluten-Free Girl Every Day."
Hear presentations by the following health experts to stay informed on how to keep your gluten-free lifestyle healthy and on-track, even during this busy food-oriented time of year:

Dr. Jean Layton, known as the "Gluten-Free Doctor" and author of "Gluten-Free Baking for Dummies." She will be speaking on "Diverse Diagnostics, Classic Solution," covering current diagnostic testing options for gluten-related disorders, as well as the classic solution - the gluten-free diet.
Cynthia Kupper, Registered Dietitian and Executive Director of GIG. Her presentation on "Healthy Gluten-Free Eating" will provide guidance on how to optimize your nutrition while on a gluten-free diet.
Dr. Steve Wangen, author of the award winning book "Healthier Without Wheat: A New Understanding of Wheat Allergies, Celiac Disease, and Non-Celiac Gluten Intolerance." Dr. Wangen will be speaking on "How to Promote Gut Health and Minimize Inflammation."
Dr. Kelly Baker, a licensed physician with a doctoral degree in Naturopathic Medicine from Bastyr University. She will be presenting "Gluten-Free Kids and Teens: Special Issues," covering special medical considerations as well as social issues involved in raising a healthy gluten-free kids throughout different stages of development.
Over 50 exhibitors will be there as well, representing a broad range of gluten-free products available on today's market. Many will be providing free samples for tasting.
Admission to this full-day event is just $5. For more details and to register, go to http://www.gluten.net/experience.
Facts about gluten-related disorders:

Celiac disease affects 1 in 133 people across the United States
Non-celiac gluten sensitivity is thought to affect even more
85% of Americans living with celiac disease remain undiagnosed or misdiagnosed
1 in 22 people who have a parent, child, or sibling with celiac disease also have celiac disease
There are over 200 signs and symptoms associated with this disease
It takes an average of 4 years for a symptomatic person to be diagnosed within the U.S
A gluten-free diet is the only existing treatment for celiac disease.
The Gluten Intolerance Group is a non-profit 501c3 organization dedicated to the education and support of people living with gluten-related disorders through consumer and industry services and programs that positively promote healthy lives. GIG was founded in 1974 and in addition to providing direct support and education to those living gluten-free, is a leading certification organization. They currently certify more than 17,000 products from 560 companies in 24 countries around the world through their Gluten-Free Certification Organization (http://www.gfco.org).