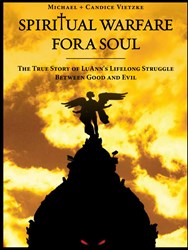 Excerpt from LuAnn's letter in 2004, 'I thought of the things I could have done differently, only to realize it was me who had to act. If I didn't do this, I would lose my life, the thing I wanted most....'
(PRWEB) October 11, 2013
Why this book? Everyone in this life struggles and this book reveals the trials, tribulations and temptations of one family battling unseen forces that caused havoc in their everyday lives and an eye opening revelation of those forces. Whether you are going through addictions, the loss of a loved one, loneliness, despair, desperation, spiritual warfare, or just need hope or a reason to persevere, this powerful, true story reveals what takes place during those dark desperate hours as well as a guide on how the Bible instructs us to overcome our adversary and live a victorious life now and forevermore.
Book Synopsis: LuAnn's death from alcoholism seemed inevitable, but where she would spend eternity still hung in the balance. Her husband Michael was determined that he would do anything and everything possible to help save her soul, however; the demons that had plagued her for most of her life, were not about to sit back and give up the prize they had fought so hard for over the years. The demons relentless persecution had the saints on their knees in intensive prayer that triggered a powerful spiritual battle in her last days between God, Satan and their armies of angles and demons. This visible, spiritual battle for her soul turned into an unworldly daily tug of war from the beginning of her life to an astonishing ending that will have you knowing exactly who won the victory.
About the Authors: Michael stayed with an alcohol addicted LuAnn for over 20 years of ups and downs. Several times he wanted to leave the marriage, but something always told him to stay. Several years after her death he met Candice, his current wife and told her his story and how he always felt that it could help others. He knew that if just one person could be changed by her death then all the years of pain, heartache and struggle would have been worth it. One day while telling his story to others she saw the profound effect it had on them. God told her it was time to write LuAnn's story and impact as many people as possible for his kingdom. Candice works at her local church and the family is involved in their Outreach program which helps the community in a variety of ways.
You can purchase Spiritual Warfare for a Soul: The True Story of LuAnn's Lifelong Struggle Between Good and Evil on Amazon.com at your local bookstore, on Kindle or at Bibledrivenministries.org. For more information about Spiritual Warfare for a Soul, please visit http://www.Bibledrivenministries.org. Also available Spiritual Warfare For A Soul: Bible Study Guide.